Print version
Three-phase separators TFS-G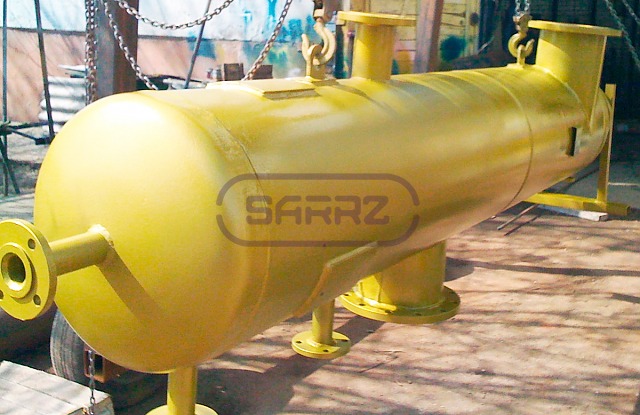 Description
Three-phase separators TFS-G are used in preliminary water discharge units, oil treatment plants, as well as in other process lines to produce from a gas-oil mixture three separate fractions (oil, gas, water). The peculiarity of this type of separators is that the incoming oil emulsion is heated.
Main functions of TFS-G three-phase separators
dehydration of petroleum emulsions to 5-20%
degassing of the oil flow
oilfield water discharge
petroleum gas production for use as crude materials
The use of TFS-G separators at oilfield enterprises allows to treat the emulsion for subsequent processing, prevents the destruction of main pipelines and allows the maximum processing of the recovered resources.
Three-phase separators TFS-G configuration produced by the Saratov Reservoir Plant
TFS-G separators are a welded horizontal cylindrical vessel with elliptical heads. They are installed only aboveground on supports. Our Plant also supply the separators TFS-G of the small volume established on a metal frame. This modification is convenient for transportation and installation, as it makes it possible to transfer the equipment from one production line to another, if necessary. Another option is to install it in a insulated block-box of sandwich panels.
In the housing while designing and manufacturing hatches, fittings and branch pipes are provided: for an inlet of an oil and gas emulsion, an output of oil, gas, water, for installation of processing equipment (pressure gauges, level gauge and other sensors). At the Customer's request, it is possible to assemble the separators TFS-G by instrumentation and controls, ladder and service platform. Instrumentation and controls allow you to fully automate the management of the separation unit.
Inside the housing is divided into compartments by partitions, in which the emulsion is divided into fractions stepwise. Before oil outlet the drip flap is placed, which gather dripping liquid remaining after the water discharge.
At the Customer's request, the system of heat insulation is provided. If it is planned to heat-insulate the separator at the worksite, our specialists design special fasteners.
For separated oil gas treatment slot gas separator can be supplied optionally.
Three-phase separators TFS-G work with heated oil emulsion. For this, the heater or the heat-exchange unit of oil (a vessel with the heat carrier and the coil) has to be established.
Exact equipment, overall dimensions and design are calculated by individual order depending on the properties of the working product, the requirements for the characteristics of the resulting fractions and producing capacity.
The delivery set of separators TFS-G includes Product certificate.
Scheme of three-phase separator TFS-G
1-housing, 2-input of the initial liquid, 3-oil output, 4-gas output, 5-water discharge, 6 - the device for gas-liquid mixture receiving and distributing, 7-distributing and coalescing devices, 8-overflow partition, 9-the device for drip liquid trapping
Technical characteristics of three-phase separators TFS-G
volume - from 12 m3 to 200 m3
working pressure is from 0.6 to 3.0 MPa
temperature of processed oil - from + 30ºC to +60ºC
liquid capacity-1500-6000 m3/day
water content at the inlet - up to 40%
water content at the outlet-up to 1.0%
Three-phase separators TFS-G manufacture
The Saratov Reservoir Plant has the necessary Certificates of conformity for the manufacture of oil and gas vessels and separators.
For separators TFS-G manufacture highly corrosion-resistant steel and steel, capable of withstanding high operating temperatures and high pressure, are used. Proper selection of steel grades, high-quality welding and reliable surface treatment guarantee trouble-free operation, long service life and minimizes the possibility of depressurization of welds. Steel grade design is made by SARRZ experienced design engineers.
The manufacturing process of separators TFS-G consists of:
preshaping of the shells and heads of the sheet metal
fabrication of auxiliary elements - hatches, pipes, fittings, supports, ladder, platforms
automatic or manual welding of all elements into a single structure
weld inspection
leak test and high-pressure test
sand blasting
anticorrosive treatment of internal and external surfaces with soil and enamel
All works are performed on the hi - tech equipment by experts of the highest category so we know that pledge of long safe operation is a correct calculation of a design and high-quality production according to the state norms and standards.
Summary tables of technical characteristics of oil and gas separators and sedimentation tanks can be found here.
How to order the three-phase separator TFS-G design and manufacture at the Saratov Reservoir Plant?
If you are interested in a complete set of Your oilfield enterprise with TFS-G three-phase separators and other devices, You can:
We offer the individual form of cooperation at the order at us a complex of services:
development of technical design and equipment design for oilfield facility
manufacture of three-phase separators TFS-G
equipment delivery and mounting
separation equipment commissioning
See also: