Print version
Oil dehydration vessels BON
Description
Oil dehydration vessel BON is used as a sump for dehydration and desalting of oil products as a part of oil treatment plants and preliminary water discharge units. Their application speeds up the process of separation of the oil emulsion, which allows to increase the producing capacity.
The Saratov Reservoir Plant manufactures vessels BON in three versions:
BON-P for preliminary dehydration
BON-G is for deep dehydration
BON-S for desalination
Main functions
partial dewatering with a small amount of residual gas in BON-P vessels
deep dehydration in BON-G vessels
the process of desalting in BON-S vessels
preliminary treatment of discharged water
Oil dehydration vessel BON configuration
They have a horizontal cylindrical housing with elliptical heads. They are mounted only aboveground on leg-supports or lug-supports Our Plant offers installation of equipment on a metal frame, which makes it easy to transport and makes it portable. We also supply modular oil dehydration vessels BON in a heat-insulated block-box, which protects against unauthorized access and allows to install other oilfield equipment inside (such as pumps, mixers, etc.).
There are hatches, pipes and fittings in the housing, through which the filling takes place, the output of the resulting liquids and installation of process equipment. At the Customer's request, it is possible to fully automate the process through the use of control and measurement instrumentation.
The principle of action of the BON vessels s is to separate the input emulsified crude oil into water, mechanical impurities and oil under the action of centrifugal forces: drops of liquid are formed into a foil, which is displayed as a continuous flow of liquid.
In addition, it is possible to supply the ladder and service platform, as well as thermal insulation to maintain the operating temperature.
Precise construction and arrangement of the vessels BON depend on the individual Customer requirements (pressure, capacity, properties of the feedstock and the characteristics of the resulting fractions).
Scheme of oil dehydration tanks BON
1-housing 2-oil emulsion input, 3-a device for collecting oil and separated gas, 4-hydrostatic distribution and coalescence device, 5-collecting water device, 6-oil and separated gas outlet, 7-water outlet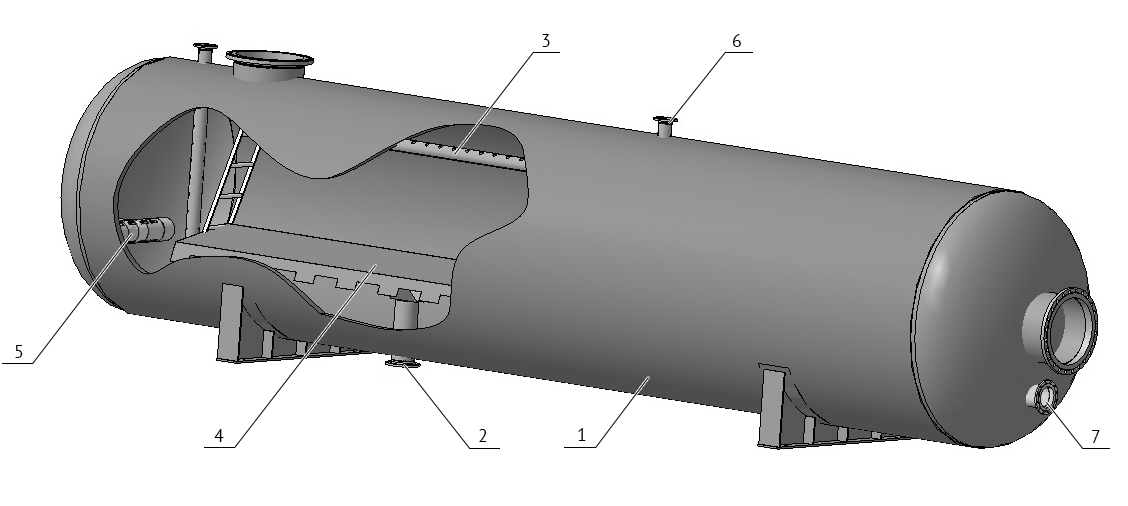 Technical specifications of oil dehydration vessels BON
Criteria
BON-P for preliminary dehydration
BON-G is for deep dehydration
BON-S for desalination
Volume
from 16 to 200 m3
Liquid output
800-10000
500-8000
500-8000
Operating pressure
0.6-3.0 MPa
Inlet water content in oil
more than 40%
less than 40%
less than 10%
Outlet water content in oil
5-10%
up to 0.5%
up to 0.5%
Outlet chlorides
-
-
up to 100 mg/l
Outlet oil-in-water content
up to 100 mg/l
Manufacturing of oil dehydration vessels BON (dehydration tanks, apparatuses)
Our Plant has all the necessary Certificates of conformity for the manufacturing of oil and gas separators and sedimentation tanks.
The manufacture is carried out according to the individual order, because of: a) the producing reserves at the oil and gas production enterprises have different physico-chemical properties, b) the equipment can be inserted into various places of a technological line.
The vessels are made of high-resistant steel grades, which are less susceptible to corrosion and high aggressiveness of the working product. The metal for production should also withstand high operating pressure.
The manufacturing process consists in the workpieces manufacture for shells, heads, supports, hatches. Further, the main and auxiliary elements are welded by automatic or manual welding into a single structure. All seams undergo weld inspection. The finished product shall also undergo leak testing and high-pressure test. The tests carried out are necessary to ensure trouble-free operation of the equipment. Prior to application of corrosion preventive compounds on the inner and outer surfaces is sandblasting.
Summary tables of technical characteristics of oil and gas separators and sedimentation tanks can be found here.
The advantages of oil dehydration tanks manufactured by the Saratov Reservoir Plant
the manufacture on high-tech equipment
quality of the supplied vessels is confirmed by the available Certificates of conformity and reflected in the Product certificate
compliance with state regulations and standards
the design department ensures full compliance of the manufactured vessels and tanks with the Customer's requirements
How to order oil dehydration vessels and tanks BON (BON-P, BON-G, BON-S) at the SARRZ?
To buy BON oil dehydration tank, You can:
Our experts perform a full range of services: design of BON vessels for oil dehydration, manufacture, delivery and installation, and commissioning of the equipment. Ordering a full cycle of works, we offer favorable individual terms of cooperation.
See also: