Print version
Meshed gas separators GS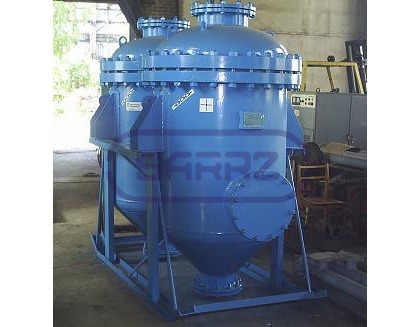 Description
The meshed gas separators GS is used as a part of preliminary gas and oil processing terminals, water discharge systems at gas and oil-producing enterprises, gas-compressor stations, gas-distributing stations and other objects at various stages of gas separation. They can be part of a group of separation systems, and can also be used as an independent unit together with a condensate gathering tank. Their main characteristic is the complete gas treatment, which does not require other technological operations before supply to the Consumer.
Functions of meshed gas separators GS
gas purification from condensed moisture, water mist, solids, impurities and other fractions
condensate collection and removal
complete and final gas treatment before delivery directly to the Consumer or to the processing line
The configuration of meshed gas separators GS
They appear as a vertical cylindrical vessel with removable elliptical covers, in which the outlet pipes are located. Horizontal orientation is possible for easy connection to gas pipelines.
There is the operating product inlet in the shell. The Saratov Reservoir Plant manufactures and delivers gas separators GS, as well as with piping arrangement and a condensate gathering tank. So, at the Customer's request we offer various structural designs:
on the channel frame together with pipelines and shut-off valves
block-modular design with pipelines, shut-off valves, accumulative drainage vessel and other additional technological equipment
We also perform design development and calculation of a separation unit consisting of several gas separators, pumps and vessels.
There is mesh blanket (meshed strainer) consisting of a set of smooth plates and plates with projections. This design of the filter element allows the maximum separation of small fractions (compared with other types of filter elements) and dripping liquid removal.
Depending on the operating conditions separators GS may be equipped with a heater.
Scheme of gas separator GS
1-housing, 2-gas inlet, 3-condensate outlet, 4- gas outlet, 5-internal gas purification devices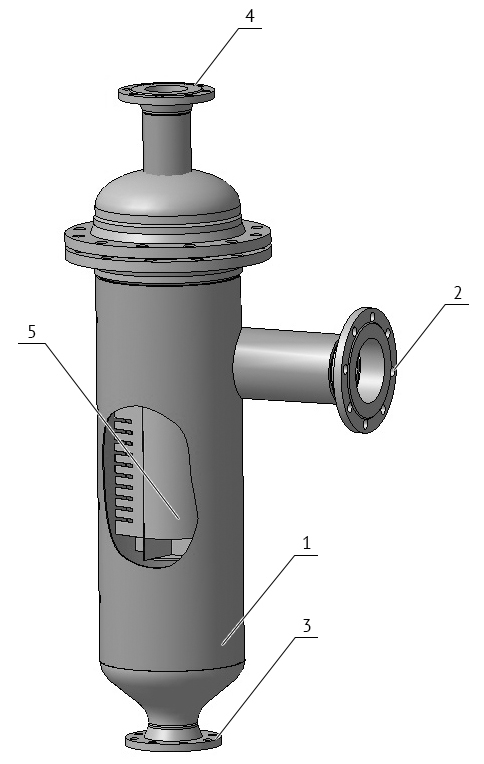 Equipment specifications
the inner diameter of the flange - 600, 800, 1000, 1200, 1600 mm
the volume - up to 16 m3
product capacity - 2000-250000 Nm3/h
pressure - 0.6-8.0 MPa
the liquid content at the inlet - not more than 200 sm/m3, at the outlet - up to 0.05 g / Nm3
operating product temperature - from -60ºC to +100ºC
material - low-alloy and carbon steels
Summary tables of technical characteristics of oil and gas separators and sedimentation tanks can be found here.
Manufacture of gas separators GS
The Saratov Reservoir Plant has the necessary Certificates of conformity for the manufacturing of oil and gas separators and sedimentation tanks.
Production of gas separators of GS is carried out after performing of individual calculations on the basis of the following requirements to:
physical and chemical characteristics of the operating product at the inlet
purification efficiency at the output
gas flow capacity
pressure
The manufacturing process consists of several stages: preshaping of shell, heads, nozzles; manual or automatic welding of elements; weld inspection, leak test and high pressure test; sand blasting of surfaces (if necessary), anticorrosive coatings application./p>
The quality of the supplied separators is confirmed by the Quality certificate on the safety and qualified specialists.
All information about the parameters of gas separators GS is contained in the Product certificate.
Advantages of mesh edgas separators GS produced by SARRS
individual approach to design
high separation efficiency even at peak loads
high performance
solids content at the outlet meets the requirements of the Customer and state standards
How to order the meshed gas separator GS at the Saratov Reservoir Plant?
In order to calculate the cost of the gas separator that best suits requirements, You can:
The advantages of cooperation with our Plant are:
high quality of the supplied equipment that guarantees reliable and safe operation
individual approach to equipment design
favorable terms of cooperation
individual conditions of cooperation when ordering a complex of separation and vessel equipment
See also: