Print version
Gas-oil separators
Gas-oil separators and sedimentation tanks are used in oil and gas production enterprises, gas distribution stations, chemical industries, oil and gas treatment plants and other facilities. They can be placed in a closed heated and unheated indoor and outdoor.
The Saratov Reservoir Plant offers all range of the equipment which is irreplaceable on oil-field productions: oil and gas separators, separators with water discharge (disposal), sedimentation tanks, skimmers, water treatment vessels, oil, gas and water treatment equipment and separation facilities.
The use of separation facilities allows to:
improve the quality of the final product
clean the working product from suspended particles and solids
improve the safety of oil and gas processing enterprises
obtain petroleum gas for use as a feed to chemical plants or fuel
reduce the hydraulic resistance during oil and gas mixtures transportation in pipelines
reduce the pulsation in pipelines
separate water from oil
reduce light petroleum fractions loss for further use (transport or storage)
minimize foaming due to the content of gas bubbles
oil / gas conditioning for transport or storage
The purpose and principle of separators action
The general purpose of oil and gas separators is oil refining of associated gas and liquid, which significantly improves its characteristics, as well as provides obtaining clean oil.
Oil with a high content of associated dissolved gas and suspended particles is produced at the fields. In order to obtain clean oil, as well as to separate gas and water, which can later be used for various needs (for example, for combustion in flare systems), oil and gas separators, separators with water discharge and sedimentation tanks are used.
Separation takes place in stages with a gradual decrease in pressure and temperature. First, the main gas volume is separated. At middle and low pressure gas is discharged completely. At this very stage, the produced water may be discharged.
In the sedimentation tanks oil dehydration with treated water disposal and oil degasification are taken place.
Oil and gas separators and sedimentation tanks configuration
The choice of a particular design depends on the technical requirements for the final product. So, the choice is caused by:
properties of the crude oil and petroleum products
pressure (low to 0.6 MPa, the middle from 0.6 to 2.5 MPa, high more than 2.5 MPa)
number of fractions to be separated (two-or three-phase separators/sedimentation tanks)
capacity (from 500 to 20,000 m3/day)
required geometric shape (vertical or horizontal)
The typical design of the separator or sedimentation tank is a vertical or horizontal cylindrical vessel with elliptical heads on support legs or support-racks, which are installed only aboveground. Inside, there are several sections separated by partitions, in which the corresponding reaction occurs in stages when the pressure decreases and the temperature rises in parallel: first, a free associated gas is released, then a dissolved gas is discharged. The last section is the refined oil and gas discharge one. In the case of installing a drop catcher, produced water can be collected.
Separators/sedimentation tanks capacity increase and improving of the oil, gas and water quality is provided due to the use of the surge vessel, the function of which is pre-selection of associated gas.
(the design features of each type of separator can be found in the relevant section of the Product Catalogue)
There are technological fittings and nozzles in oil and gas separators and sedimentation tanks for crude oil inlet, refined oil, gas and/or water outlet, and the removal of air. Controls, valves, accessories and other equipment is installed into them too which provides safe and qualitative process.
In order to know the cost of oil and gas separator, You can fill out the corresponding Questionnaire and send it by e-mail .
Sedimentation tank configuration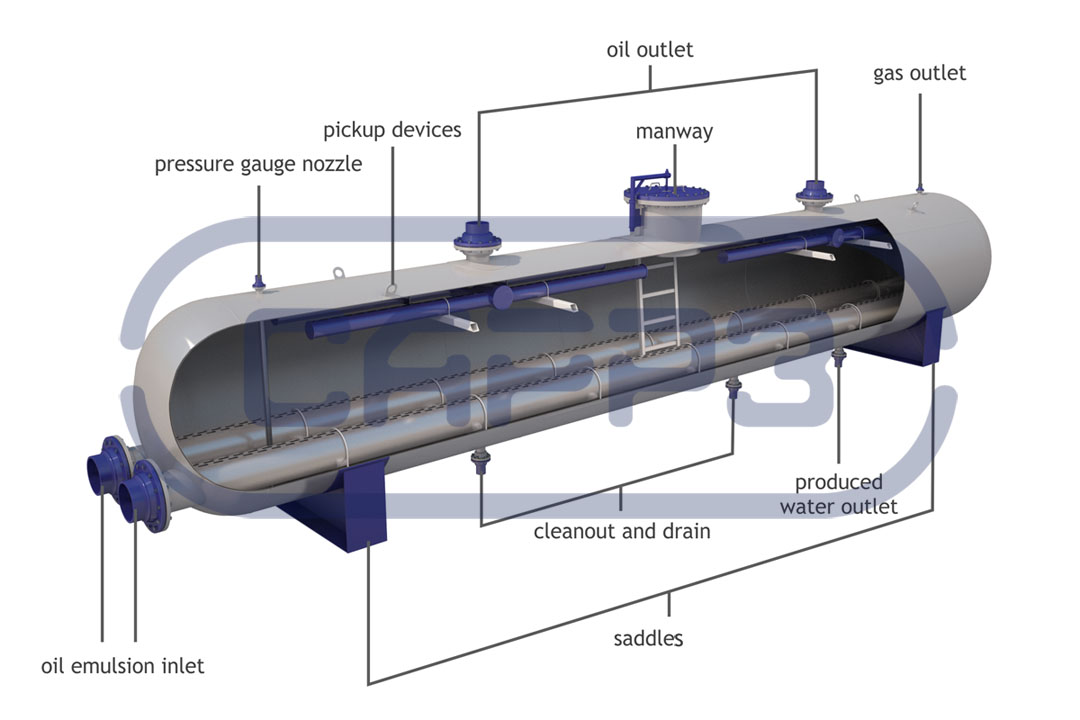 Gas-oil separator configuration
At the Customer's request the Saratov Reservoir Plant offers the delivery of oil and gas separators and sedimentation tanks in modular design: all equipment (separator, piping, shut-off valves on pipelines, field instrumentation/process control instruments, automatic control system) is mounted on a metal frame. Such a complex supply will reduce the time for installation, as it is necessary only to connect the pipelines in the existing or newly laid processing line on operating site.
Separators configuration
We produce the following:
horizontal or vertical
gravity, inertial or centrifugal, hydrophobic
high, medium or low pressure separators
two - (oil and gas) or three-phase (water discharge separators) separators
Technical properties of gas-oil separators produced by the Saratov Reservoir Plant
volume-up to 200 m3
capacity from 500 to 20.000 m3/day
pressure-up to 6.3 MPa
the oil content in the refined gas is about 0.05 kg/m3
gas content in oil - about 0,5 m3/t
temperature - from -60ºC to +40ºC
seismicity of the area - up to 6 points
Specifications of sedimentation tanks
Criteria
Hydrophobic
sedimentation tank
Water settling drum
Water settling drum with liquid gauze filter
Sedimentation tank with weirs
Sedimentation tank
Oil dehydration and desalting vessel
Water treatment vessel
Integrated water treatment vessel
Configuration
horizontal vessel with elliptical heads on supports, with or without heat insulation
Operational environment
produced water
waste water
oil emulsion
produced water
Substance hazard category
3,4 at GOST 12.1.007-76
Volume, m3
25-200
50-200
25-200
50-200
16-200
Day capacity, m3/d
2000-15000
4000-15000
2000-15000
500-1000
500-10000
1000-10000
Pressure, MPa
1,0; 1,6; 2,5
1,0
1,0; 1,6; 2,5
1,0; 1,6;
0,6; 1,0; 1,6; 2,5; 3,0
0,6; 1,0; 1,6
Ambient temperature, ºС
from -60 to +100
from -60 to +200
from -60 to +100
Operating temperature, ºС
from -40 to +60
Steel grade
16GS, 09G2S
09G2S, 20UCH, two-ply steel
16GS, 09G2S
Specifications of gas-oil separators
Criteria
SNG
TFS-L
TFS-G
SGG/SGV
SGSH
BDN
BDV
FD
Purpose
separation and oil desalting
oil dewatering and degasification with water discharge
heated oil dewatering and degasification with water discharge
oil-associated gas preliminary treatment
gas collection and cleaning from dripping liquid
oil degasification with produced water discharge
oil emulsion degasification with produced water discharge
oil emulsion degasification with produced water discharge, gas cleaning
Volume, m3
12-200
0,6-100
diameter 200-500 mm
12-200
25-200
Pressure, MPa
0,6-4,0
0,6-3,0
0,4-4,0
0,6-4,0
0,6-1,0
0,6-1,6
Day capacity, m3/d
1500-12000
1000-12000
1500-6000
5000-700000
2000-250000
500-8000
1000-10000
Media temperature, ºС
up to +100
from +30 to +60
up to +100
Operating temperature, ºС
from -70 to +40
Oil and gas separators fabrication
The Saratov Reservoir Plant has the necessary Certificates of conformity for the separators and sedimentation tanks manufacturing.
The Plant produces separation facilities in accordance with the requirements of "Regulations of industrial safety for hazardous facilities using equipment working under excess pressure". The type and design are calculated individually based on the pressure requirements, the characteristics of the working medium at the inlet and outlet, as well as the required degree of separation.
Separators and sedimentation tanks are produced of steel, which is able to withstand long and safe operation with corrosive liquids and is chemically inert. Additional requirements to the steel used are its physical integrity and high performance at higher temperature and pressure. The required properties are kept by the sheet alloy steel.
Manufacture process of separators and sedimentation tanks consists of several stages:
blanking the wall, heads and auxiliary elements (supports, necks, struts, thermal insulation settings, etc.)
automatic or manual welding of walls and heads into a single shell
welding of the shell and substructure components
leak test and high pressure
weld inspection
corrosion control treatment of external and internal surfaces
installation of main equipment (pressure gauges, level gauges, etc.)
Depending on the operating conditions, we produce oil and gas separators with or without stress relieving of welds, heat insulation and settings.
All work is done by professionals who regularly confirm their qualifications and attend a refresher course.
All delivered equipment has Certificate of conformity to industrial safety requirements.
How to order oil and gas separator or a sedimentation tank at the Saratov Reservoir Plant?
In order to purchase separation facility, you can:
call at +7(8452)250-288
send the technical requirements to the separator needed by e - mail
download Questionnaire, fill and send it by e-mail
use "Request for quotation", fill in the contact information and our specialist will contact You
We perform multiple services: starting from engineering surveys and facility design, oil and gas separators/sedimentation tanks production, to equipment delivery and installation.