Print version
Hot water tanks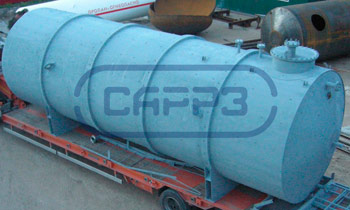 Hot water tanks are widely used in Central Heating and Power Plant (CHPP), nuclear power plants (NPP), boiler houses and in the central heat supply of housing and communal services for storage hot water. Their main purpose is to store liquid, maintain its temperature at a given level, smooth out its pressure during the period of maximum use.
Design, manufacture, operation and maintenance are regulated by:
SP 124.13330.2012 "Heating networks: updated version of SNiP 41-02-2003"
Rules for the technical operation of process units
RD 153-34.1-40.504-00 "Methodical instructions for the optimal protection of storage tanks from corrosion and water in them from aeration"
MDK 4-04.2002 "Typical instruction on technical operation of hot water tanks in public heat supply systems"
RD 34.40.601-97 "Methodical instructions for the inspection of hot water tanks"
Manufacture of hot water tanks
The Saratov Reservoir Plant has the necessary Certificates of Conformity for the manufacture hot water tanks (BAGV).
We produce hot water tanks of sheet steel - St3sp (for operation up to -40°C) and 09G2S (up to -60°C) with thickness from 4 mm to 16 mm.
The method of production depends on volume of tank. Tanks of large volume are produced by the method of rolling-up on the stand of roll-up. It is a method when the bottom and the shell are delivered from the manufacturer in the form of a rolled-up panel. At the construction site, the tank shell turns and welds to the bottom.
Another production method is the manufacture of shells in belts. Such a method of production contributes to the preservation of the geometric shape, the absence of buckling and other deformations. On the construction site, the steel sheets are welded overlapping, supported by a shell and a longitudinal edge.
Horizontal hot water tanks of small volume are delivered to the installation site in final assembly from plant.
Anticorrosive protection of hot water tanks
Due to the properties of the liquid, tanks are exposed to great corrosive effects and other negative factors. Therefore, the steel grade from which the hot water tanks are made must have high corrosion resistance, be wear-resistant and have good resistance to low temperatures.
Anticorrosive protection consists in complex processing of internal and external surfaces. As coatings, sealants, aluminum metallized coatings, paints, epoxy compounds, enamels, self-healing anticorrosive lubricants, electrochemical protection are used.
The design and construction of hot water tank BAGV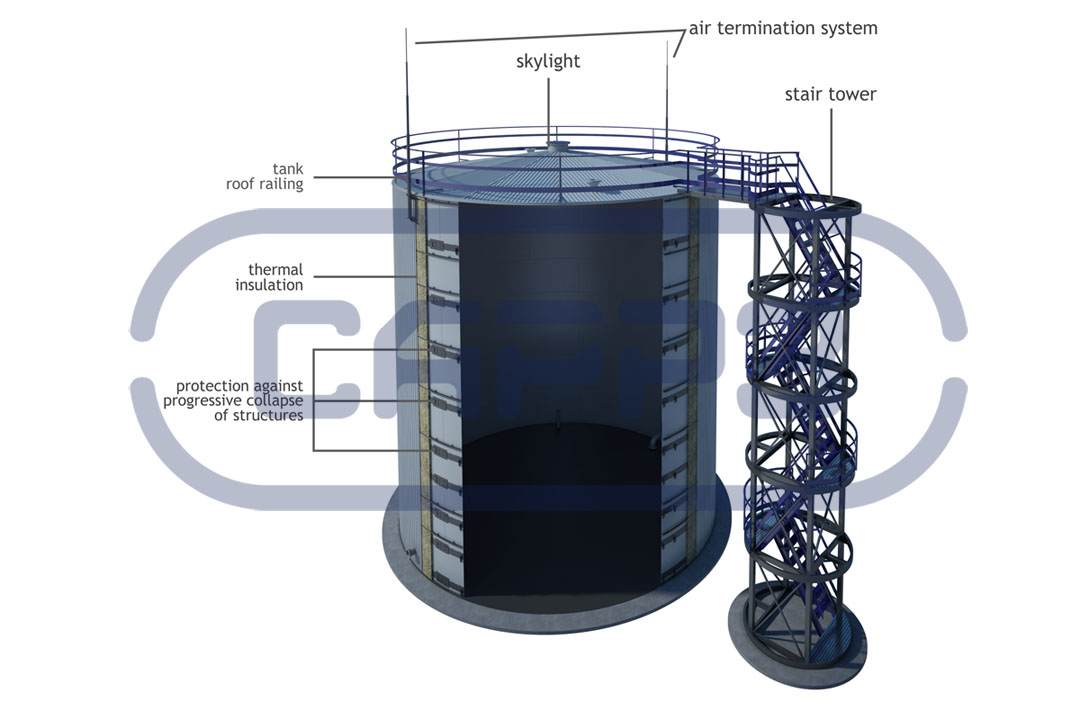 Their design resembles storage tanks for oil products, but they are not interchangeable.
BAGV are a vertical or horizontal cylindrical all-welded vessel with a volume from 50 m3 to 20,000 m3, mounted on supports made of concrete or metal.
BAGV of volume up to 50 m3 are traditionally made in horizontal design. BAGV with a volume of 50 m3 to 100 m3 are produced both horizontally and vertically. Tanks with a volume of more than 100 m3 are more effective in vertical production.
Vertical tanks for hot water are a cylindrical body with a flat bottom and a frame or self-supporting roof. The design of the horizontal hot water tank is a cylindrical all-welded body with flat, conical or conically-truncated bottoms. The type of the bottoms is chosen based on the operating conditions. They are necessarily completed with a ladder, a platform of service and a fencing.
The hot water tank is equipped with a thermal insulation layer or a water jacket (water circuit) for maintaining the desired high temperature. Climatic conditions on site predetermine the necessary degree of insulation and thickness of the thermal insulation layer.
In addition, there are small hot water tanks that are installed on the roof or attic of buildings or in the lower part of the structure. If tanks install above the point of the water supply system, they are operated at atmospheric pressure. In the case of a lower location, they are operated at an operating pressure of 0.6 MPa. Then they need to be completed with safety valves or hydraulic locks to prevent emergency situations at a dangerously high pressure.
The design of the storage tanks can also be open or closed. The first modification is more safety, since it operates at atmospheric pressure.
The design should be provided with filling necks, hatches, brackets, branch pipes, flanges and fittings for connecting technological equipment.
BAGV can have sections in which liquid of different temperatures can be stored.
Hot water tank's characteristics
the temperature of the operational product should not be above 95°C
ambient temperature above -60°С
seismicity of the area - no more than 9 points
wind load - below 0.6 kPa
snow load - below 2.0 kPa
there must be a natural or forced ventilation
minimum residual level - 200 mm
Technical characteristics of hot water tanks
Charecteristics
BAGV-100
BAGV-200
BAGV-300
BAGV-400
BAGV-1000
BAGV-2000
BAGV-3000
BAGV-5000
Operational product
water
Structural design
horizontal/vertical
vertical
Temperature of operational product, ºС
up to +95
Main material
St3sp, 09G2S
Steel thickness
4-8 mm
8-16 mm
Operating temperature, ºС
from -60 to +40
Minimum residual level in tank, mm
200
Seismicity of operation area
up to 9 points
Type of bottoms
flat, conical
Specified service life, years
10

Overall size

(selected according to individual orders and given for reference)

Diameter D, mm
4900
6650
7850
8600
10430
15180
18980
20920
Height H, mm
5960
5960
7450
7450
11920
11920
11920
14900
Weight, kg
12251
14000
17960
20500
39500
69500
118000
176500
Hot water tank connection
Hot water tank is equipped with technological equipment for safe operation:
automatic level control to prevent overflow
control and measurement instrumentation for measuring the temperature of a liquid, pressure, level of an overflow, etc.
blocking equipment to turn off the water supply at min level
devices for measuring pressure in the supply and discharge pipelines
safety equipment
drainage system for removing residues
draining and filling equipment
overflow pipe at the maximum permissible level
a pipe to drain water from the overflow pipe
vent pipe that prevents the formation of a vacuum when draining by discharging a steam-air mixture
heating insulation
Specialists of the Saratov Reservoir Plant produce hot water tanks in any climatic modification, any structural design (horizontal / vertical, open or closed type), completing them with the necessary technological equipment.
How to order the manufacture of hot water tanks at Saratov Reservoir Plant
In order to buy a hot water tank up to 5000 m3, you can:
contact our specialists at +7(8452)250-288
send the Technical spesification to e-mail
use the "Request for quotation",form, provide contact information, and our specialist will contact you