Print version
Underground drain vessels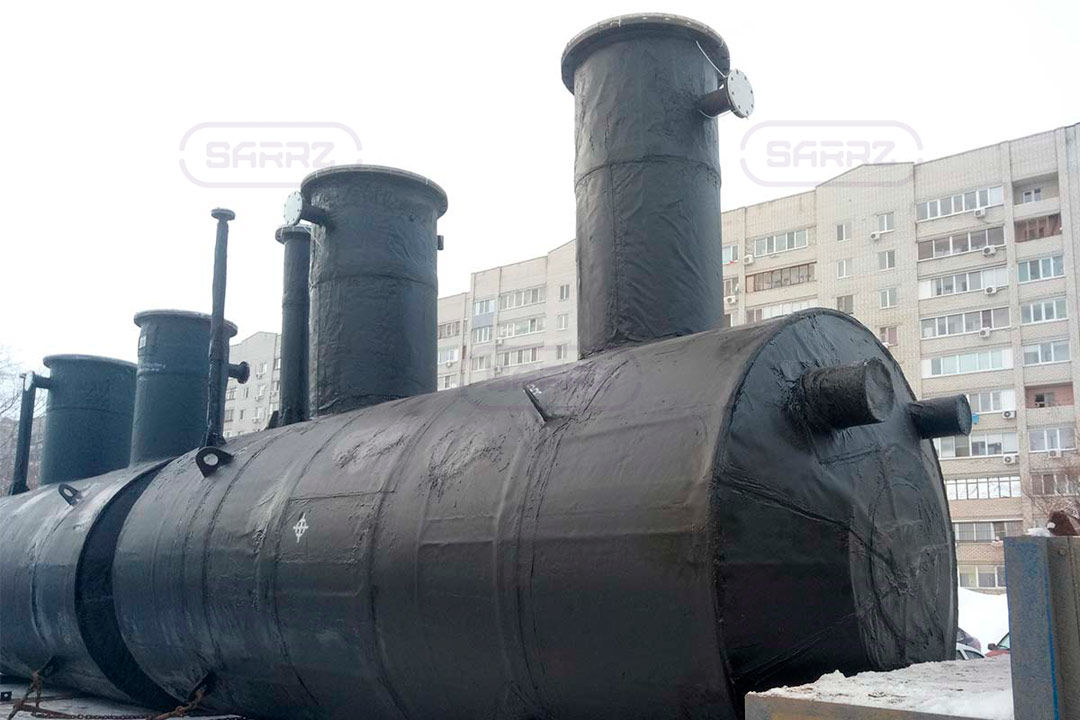 Underground drain vessels are used for temporary storage and collection of petroleum products in the oil and gas plants and coke-chemical industries, as a tank for draining fuel from technological systems, for storing gas condensate, for draining off the remains of various aggressive liquids (petrol, oil, diesel fuel, transformer oil, gasoline , alkalis, acids, sewage, etc.). It should be noted that they are not used for the discharge of liquefied petroleum gases (LPG).
Performance characteristics of drainage tanks:
There are several requirements for the stored product and the conditions on the site:
the temperature of the stored liquid should be in the range from -15°C to +80°C
kinematic viscosity of liquid 30х10-6 m2/s
product density - no more than 1000 kg/m3
substance hazard category 2, 3, 4
the content of H2S should not exceed 1.8%
category and group of explosion-proof liquids - IIA-T3, IIB-T3
the minimum ambient temperature should not exceed -60°С
The underground vessels reduce the risk of the stored product entering to the environment.
The construction of drain vessels
Underground vessel has a construction of cored all-welded vessel operating under a pressure of no more than 0.07 MPa, with a capacity from 1 m3 to 200 m3. Drain vessel consists of a metal cylindrical shell and conical heads. Two hatches are installed on the upper side of the shell for technological maintenance: one for draining the stored product, the second for accessing into vessel, for maintenance survey, technological maintenance and repair (cleaning, purging, washing). The discharge of the stored product is carried out using a semi- submersible pump.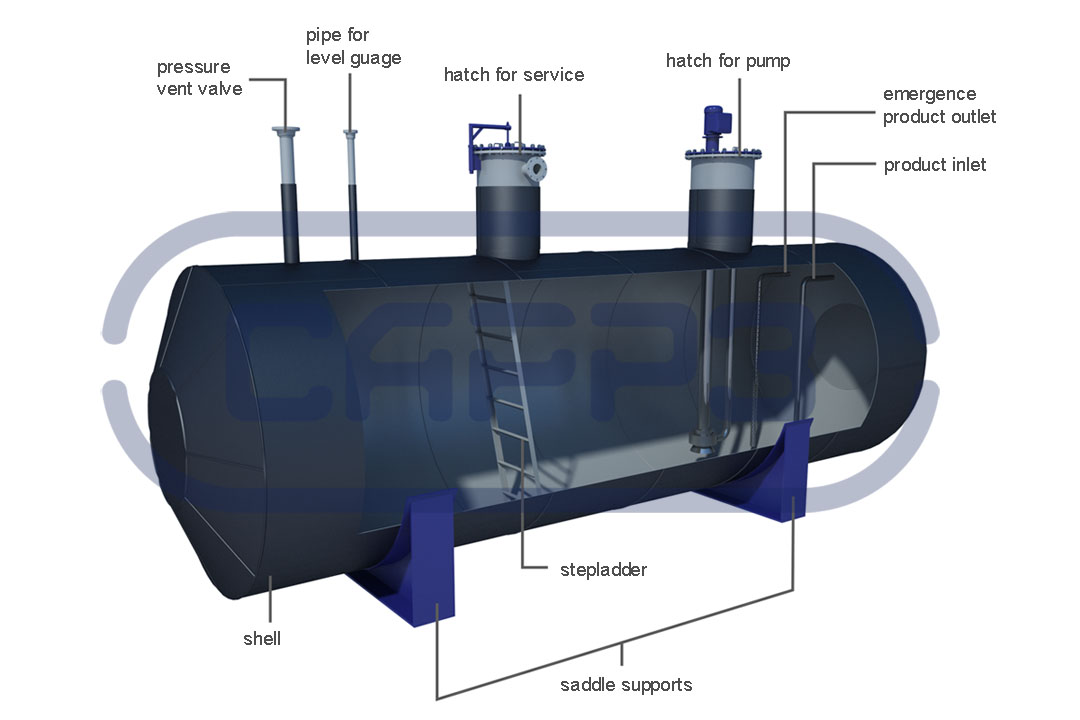 The material of the shell must be resistant to the negative effects of the soil to prevent corrosion, chemical and physical changes. A waterproof coating which made of bitumen-polymer mastics is applied to the vessel for protecting it.
The Saratov Reservoir Plant produces underground vessels of two types:
underground vessels without heater (EP)
underground vessels with a heater (EPP) for areas where the ambient temperature is below the freezing point of the liquid
The shell of underground vessel is heated by a metal coil in the form of pipes inside the shell, in pipes the steam-water mixture circulates, or by heating cable.
Manufacture of underground vessels (drainage tanks)
The Saratov Reservoir Plant has the necessary Certificates of Conformance for the production of underground vessels with and without heater.
Besides our specialists follow the requirements of the following standards:
GOST R 52630-2012 "Vessels and welded steel apparatus"
PB "Rules for design, fabrication and acceptance of steel welded vessels and devices"
STO 00220227-005-2009 "Vessels and steel welded apparatus of high pressure. General technical requirements"
Regulations of industrial safety for hazardous facilities using equipment working under excess pressure
All underground vessels are made of the following steel grades depending on the operating conditions:
St3sp for operation at temperatures up to -20°C
09G2S-9 for operation at a temperature not exceeding -40°С
09G2S-8 for areas where the average temperature of the five-day period is below -40°С
All underground vessels have the next design version, depending on the temperature of the area of operation:
version 1 - the design temperature of the ambient air of the coldest five-day period is below -20°C
version 2 - temperature up to -40°С
version 3 - operating temperature up to -60°С
Depending on the climatic conditions, all drainage tanks are produced in three climatic versions:
cold climate 1(CC) for use in cold climates
moderately cold climate 1(MCC) for temperate climate
tropical climate 1(TC) - for the tropical climate
Waterproof coating and thermal insulation are provided in the design process for reliable operation.
Technological piping of underground vessels
All vessels are connected to a pipeline at the construction site, on the one hand join to the drain filter of the pipe, and on the other hand to the pump installed in one of the necks or falls below the so-called "bottom heel" level, thereby creating a hydraulic shutter preventing the formation of a spark in the process of plum-filling operations.
Pipes and fittings are provided for the installation of instrumentation and other equipment for reliable and safe use in underground vessels, for example, a thermometer, a pressure gauge, devices for determining the amount of product (level gauges), a thermoelectric pile, devices for automatically stopping the supply or pumping out of the product, alarm systems, shut-off and control valves.
The necessary equipment for draining and filling operations are pumps and pumping units of various types that facilitate the technological processes. The pumps are manufactured in explosion-proof and corrosion-resistant design with a double seal to reduce the risk of fire and exposure to the working environment.
Installation of pumps is possible on four levels: 3 m; 3.2 m; 3.7 m; 3.9 m.
At the Customer's request, the pump can be installed in a concrete or metal storing well, which will protect the pump from the negative effects of the work product.
Underground drain vessels are delivered in the assembled form. Only hatches and tanks pipes, the length of which exceeds 1 m, are transported separately. They (hatches and pipes) are cut at a level of 0.4 m from the edge of the shell.
The height of the neck for routine maintenance and installation of pumps depends on the depth of immersion of the shell in the ground.
All manufactured products are delivered together with a passport that has passed quality control and acceptance, certified by regulatory bodies.
Calculation, production and delivery of underground vessels are carried out on the basis of a Questionnaire or technical specification of the Customer.
Summary table of technical characteristics of underground vessels
Characteristics
5 m3
8 m3
10 m3
12,5 m3
16 m3
20 m3
25 m3
40 m3
63 m3
100 m3
Operational product
oil, condensate, water-oil mixture, acids, alkalis, sewage, etc. with density up to 1000 kg/m3 and kinetic viscosity up to 30x10-6 m2/s, H2S content not more than 1%
Capacity, m3
5
8
10
12,5
16
20
25
40
63
100
Operating temperature of stored product
from -15 to +80
Operating pressure, MPa
0.07 (test pressure 0.2 MPa)
Operating temperature, ºС
from -45 to +80
Head's types
conical, elliptic
Operation life, years
20

Overall size

(selected according to individual orders and given for reference)

Diameter, mm
1600
2000
2000
2000
2000
2400
2400
2400
3000
3000
Length L, mm
2821
2920
3320
4320
5320
4840
5850
9026
9300
14900
Hight Н, mm
4031
3440
3440
3440
3440
3525
3525
4100
4150
4150
Neck height Н1, mm
1700
1300
1300
1300
1300
900
900
1600
1000
1000
Width, mm
1760
2051
2051
2051
2051
2450
2450
2450
3050
3050
Submergence, m
3; 3,2; 3,7; 3,9
Weight, kg
1500
2900
1838
2037
2418
2455
4300
6148
7296
10618
How to order an underground drain vessels at the Saratov Reservoir Plant?
In order to know the cost of an underground vessels, you can:
The Saratov Reservoir Plant offers a complex supply of your facility with equipment of our production. We also carry out engineering surveys, design of facilities, delivery of metal structures of our own production, installation of underground vessels, tanks and apparatus.