Print version
Vessels for liquefied petroleum gases LPG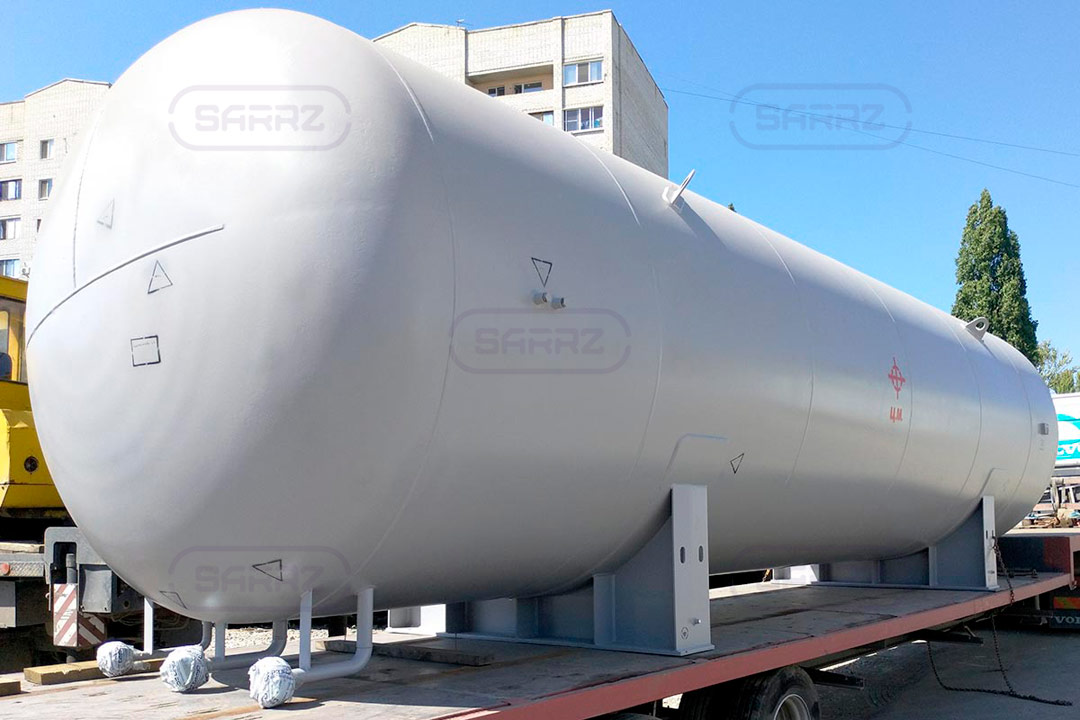 Propane, butane and propane-butane mixtures are widely used in housing and communal services for autonomous gas supply, oil and gas industry and gas stations. Storage and delivery of liquefied gases is carried out in vessels for propane-butane (SUG).
The Saratov Reservoir Plant produces vessels for LPG (propane-butane mixture) storage of capacity from 4.2 m3 to 200 m3. They are produced both according to type sizes, and by individual order. At the Customer's request, our specialists produce gas holders (vessels for storage of LPG) of any size, having the required shell thickness and with the required technological equipment.
Design of vessels for LPG
They are horizontal cylindrical tanks with elliptical heads.
Vessels for LPG can be placed either above ground or underground depending on the operating conditions.
The underground installation of gasholders is carried out on saddle supports or platforms, the design of which is regulated by OST 26-2091-93 "Supports of horizontal vessels and apparatus. Construction".
Design of double-walled vessels for liquefied petroleum gas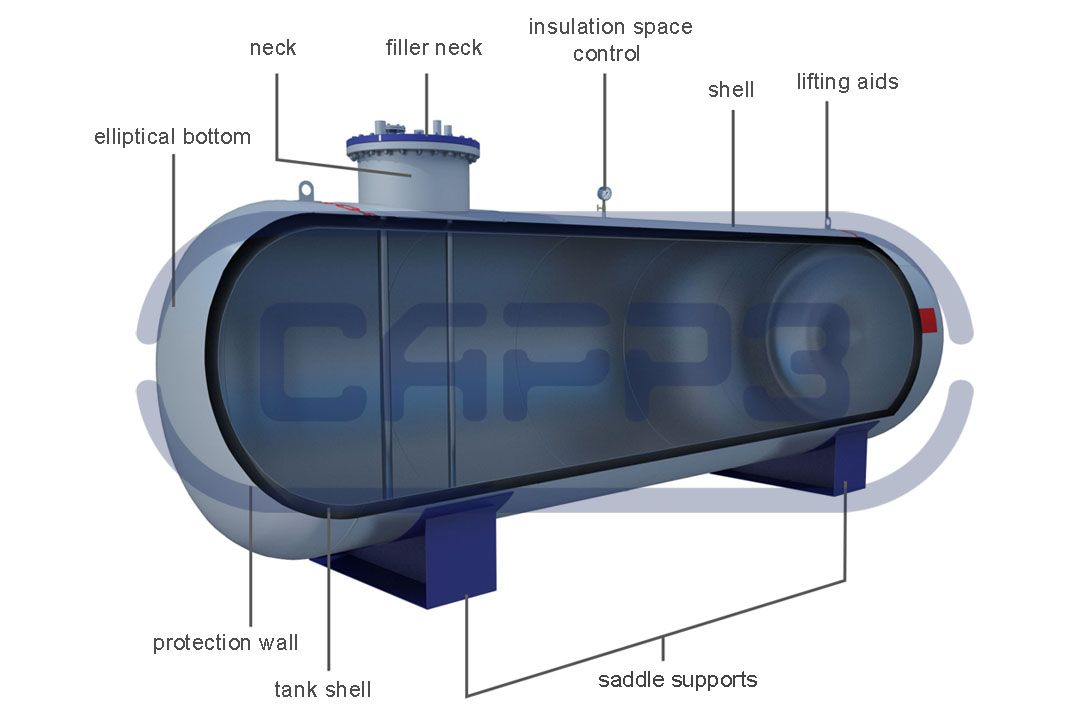 It is also possible to manufacture double-walled vessels ("vessel-in-a-vessel") for propane-butane mixtures. The space between the walls is filled with liquid or nitrogen for additional protection against emergencies and leaks of the stored product.
It should be noted that they can store any gases, which vapor pressure at a certain temperature (+50°C) does not exceed the elasticity of propane-butane vapor, as well as light fractions of gasoline.
Manufacture of gasholders for liquefied gas
The Saratov Reservoir Plant has the necessary Certificates of Conformity for manufacture of LPG vessels.
For manufacture such vessels SUG two types of steel are used: 09G2S-6 (for operating temperature from -30°C to +50°C) and 09G2S-8 (for operating temperature from -60°C to +50°C).
Elliptical heads are manufactured in accordance with GOST 6533-78 "Elliptical flanged steel head for vessels, apparatus and boilers. The main dimensions". They are specially designed for pressure vessels, and are an ellipse and a cylindrical bead or non-bead part. They are produced either by the flanging method (cold knurling) or by stamping. The choice depends on the diameter and thickness of the metal. Edges are processed by plasma cutting or grinding for smooth joint with the shell.
The fittings for connecting process equipment are placed on the top of the vessel. At the Customer's request, vessels for LPG can be equipped with ladders, platforms, thermal insulation.
When designing and manufacturing vessels for liquefied gases, fire safety and leakproof should be provided, which is also achieved by installing additional shut-off safety and control valves (throttles, stopcocks, cocks).
Surface protection is carried out by applying a waterproof layer of composite materials to underground vessels for LPG and presizing and enamels of gray color to aboveground ones.
The production of aboveground and underground gasholders is regulated by state norms and rules:
Industrial safety rules for hazardous industrial facilities, which use equipment operating under excessive pressure
National State Standard (GOST R) 52630-2012 "Vessels and welded steel apparatus - General specifications (with Amendment No. 1)"
Rules for design, fabrication and acceptance (PB) 03-584-03 "Rules for Design, Manufacture and Acceptance of Vessels and Apparatuses of Steel Welded"
Federal rules and regulations (FNiP) "Safety rules for facilities using liquefied petroleum gases" (Order No. 558 of November 21, 2013)
Technical characteristics of pressure vessels SUG for liquefied petroleum gases storage
The vessels store propane-butane mixtures at a pressure of 1.6 MPa. Tank shell temperature should be in the range from -60°C to +50°C. If the ambient temperature exceeds the requirements, additional processing equipment is installed to heat operating product.
Gasholders for LPG should be operated in climatic regions of moderately cold and tropical climates in accordance with National State Standard (GOST) 15150-69.
Seismicity of operational areas should not exceed 7 points (according Construction rules and Regulations SniP II-7-81). Their operation is possible in more earthquake zone. Appropriate calculations should be made and correspond with normative documents.
All propane-butane storage vessels must undergo state expertise for external and internal coatings conformance, conformity of other parameters and characteristics with the relevant norms, rules and requirements for the operation of liquefied petroleum gas.
Characteristics
4.2 m3
5 m3
8 m3
10 m3
12 m3
16 m3
20 m3
25 m3
50 m3
80 m3
100 m3
200 m3
Operational product
liquefied petroleum gas, propane-butane gas or other gases with a vapor pressure which doesn't exceed propane pressure
Capacity, m3
4.2
5
8
10
12
16
20
25
50
80
100
200
Filling level, %
85
Effective volume, m3
3.6
4.25
6.4
8.5
10.2
13.6
17
21.25
42.5
68
85
170
Placement
aboveground, underground
Structural design
one walled, double-walled
The heads
elliptical
Operating pressure, MPa
1.6
Design pressure, MPa
1.8
Hydrostatic test pressure, MPa
2.03
Operating temperature, ºС
-40...+45
Main material
steel 09G2S
Steel thickness
10-22 mm
Apparatus type (OST 26-291-94)
1
Hazard rating according GOST 12.1.007-76
4
Fire hazard rating according GOST 12.1.004-91
+
Category and group of explosion hazard according GOST 12.1.001-78
IIa-Т3
Outer surface corrosion protection of underground vessels
Reinforced corrosion protection according GOST 9.602-2016 "Underground structures. General requirements for corrosion protection"
Operation life, years
20

Overall size

(selected according to individual orders and given for reference)

Aboveground vessels (Diameter x Length x Height)
1600х
2360х
1190
1600х
2900х
1990
1600х
4360х
1990
1600х
6100х
2110
1600х
6280х
2110
1600х
8250х
2110
1600х
9980х
2100
2000х
8120х
2320
2400х
11470х
2724
3000х
11500х
3510
3000х
14700х
3695
3400х
22900х
3910
Underground vessels (Diameter x Length x Height)
1600х
2360х
2450
1400х
3456х
2620
1400х
5450х
2635
1600х
5450х
2500
1610х
6300х
2510
1600х
8400х
2510
1600х
9980х
2600
2000х
8104х
2877
2400х
10100х
3380
3000х
11500х
3910
3000х
14660х
4185
3400х
22900х
3910
Weight of single-walled underground vessel, kg
1400
1800
2400
3100
3200
4000
4900
5620
9700
16900
21500
42200
weight of single-walled aboveground vessels, kg
1600
1700
2600
3000
3200
3800
5100
5620
10050
16750
21500
42200
Weight of double-walled underground vessel, kg
2150
2300
4100
5350
6150
7650
9000
10600
16200
27200
35200
58300
Weight of double-walled ground vessel, kg
2100
2200
4000
5200
6000
7500
8700
10600
16000
27000
35000
58300
How to order production of the vessels for LPG at the Saratov Reservoir Plant?
To calculate and order a vessel for LPG, you can:
The Saratov Reservoir Plant performs multiple services for the oil and gas facilities construction. We offer:
engineering surveys at oil and gas facilities, including highly dangerous and technically challenging objects
metal structures of different purposes fabrication
delivery and installation of produced equipment