Print version
Oil degassing buffer BDN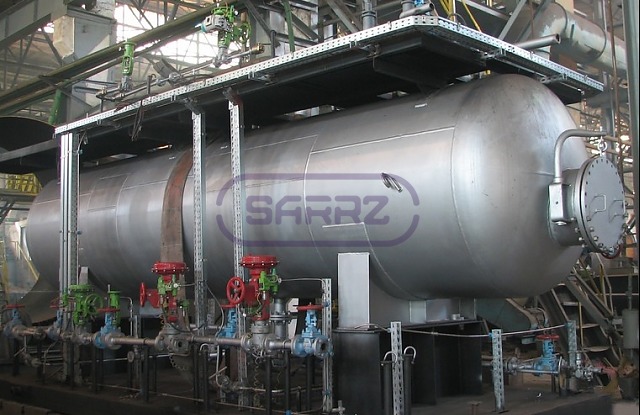 Description
Oil degassing buffer (BDN) are used at oilfield facilities, oil and gas production facilities, oil treatment plants and preliminary water discharge units.
Functions of BDN Oil degassing buffer
oil degassing
treated oilfield water discharge
associated petroleum gas production
preliminary treated oil products for further processing production
increase in producing capacity of oil treatment plants
improving the properties of petroleum products for its subsequent transportation
Design of BDN degassing drum
The housing is a horizontal cylindrical vessel, which provides simultaneous discharge of degassed oil, oilfield water and associated petroleum gas. They are installed aboveground. They are assembled on the leg-supports or lug-supports.
The Saratov Reservoir Plant also manufactures modular packaged (skid-mounted) configuration of degassing vessels: the container and primary piping are placed in a heat-insulated block-module made of sandwich panels. This design protects the equipment from unauthorized access inside. It is possible to install on a metal frame, which greatly simplifies installation and allows to transport the equipment as needed on various production lines.
The oil degassing buffers BDN provide hatches, pipes and fittings which serve to:
primary oil emulsion loading
the outlet of preliminary treated oil
treated water outlet
gas outlet
additional equipment installation (instrumentation and controls, shutoff and safety valves)
There are the baffles with devices for the degassed and dehydrated oil collecting and liquid droplets capturing.
At the Customer's request, heat insulation of the housing is provided to maintain the operating temperature.
Degassing buffers BDN can be completed with a ladder and a service platform which provide service personnel access to hatches.
Design calculation (volume, dimensions, location and diameter of hatches and fittings, etc.) is performed individually based on pressure requirements, degree of oil refining, processing capacity and other parameters.
Oil degassing buffer BDN scheme
1-housing, 2-oil inlet, 3 - oil outlet with integral collection unit, 4-gas outlet with integral condensed moisture trap, 5-distribution and coalescence device, 6 - water outlet with collection unit, 7- baffle
Technical characteristics of oil degassing vessels
volume-from 12 m3 to 200 m3
liquid capacity-500-8000 m3/day
pressure - 0.6-1.0 MPa
gas production rate - up to 100 Nm3/t
Oil degassing buffers BDN manufacture at the Saratov Reservoir Plant
Our Plant has the necessary Certificates of conformity for the manufacture of oil and gas tanks and separators.
We manufacture degassing drum in accordance with the applicable state standards on high-tech equipment, which guarantees the quality of the supplied units and trouble-free operation throughout its service life.
Only steel grades that are capable of withstanding severe operating conditions (corrosion behavior of the aggressive working product) are used for the manufacture.
Special attention is paid to surface preparation to sandblasting and anticorrosive protection of internal and external surfaces.
While manufacturing, automatic or manual weld inspection, leakage tests and high-pressure tests are carried out.
All performed works are reflected in final completion protocols and the Product certificate.
Summary tables of technical characteristics of oil and gas separators and sedimentation tanks can be found here.
How to order the oil degassing buffer BDN manufacture at the Saratov Reservoir Plant?
In order to get a quote of BDN degassing vessels manufacture, You can:
We manufacture a wide range of equipment, which is used in oil and gas enterprises. The full list of supplied products You can see in the Product catalogue or make inquiries by phone +7(8452)250-288.
Ordering equipment facilities for oil and gas gathering, processing and transportationof our own make, we offer individual terms of cooperation.
See also: