Print version
Oil gas separators (SNG)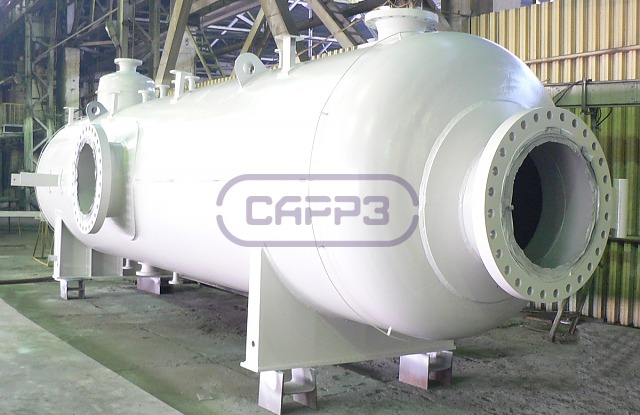 Description
Oil gas separators (SNG) are used at the oil-field enterprises, at preliminary oil processing terminals and preliminary water discharge units, in Group Metering Stations, etc. They carry out the following functions:
degassing of non-foamy oils
reduction of solids content in crude oil
water removal
desalination of crude oil
the product oil, treated associated gas and clean oilfield water production
emulsifiers removal
The use of oil gas separators helps to reduce corrosion effects on the main pipelines, which prolongs their service life, and the contained gas and water can be used after separation for other technological purposes (for example, as raw materials in chemical industries).
Construction and installation of oil gas separators produced at the Saratov Reservoir Plant
They are a horizontal cylindrical vessel with elliptical heads on the supports with compartments inside in which a phased separation occurs.
Our Plant manufactures two structural designs of oil gas separators:
separator SNG-W with the function of water discharge
separator SNG-K of the last stage
For the convenience of ordering, we recommend to email :
the Questionnaire for SNG-W
the Questionnaire for SNG-K
The hatches, fittings and nozzles are placed in the shell through which the crude oil is filled, process equipment is installed, as well as the product oil and treated gas is unload. At the customer's request we also supply technological equipment-fluid level gages, level transmitters and alarms, sampling equipment, instruments, as well as stairs and access platform for maintenance personnel.
Low volume separators can be installed on the frame structure for easy installation on site.
If the process requires gas cleaning from dripping liquid, we recommend the use of an additional meshed gas separator.
At the Customer's request, the equipment can be thermally insulated to maintain the oil and gas emulsion temperature.
General drawing of oil gas separator SNG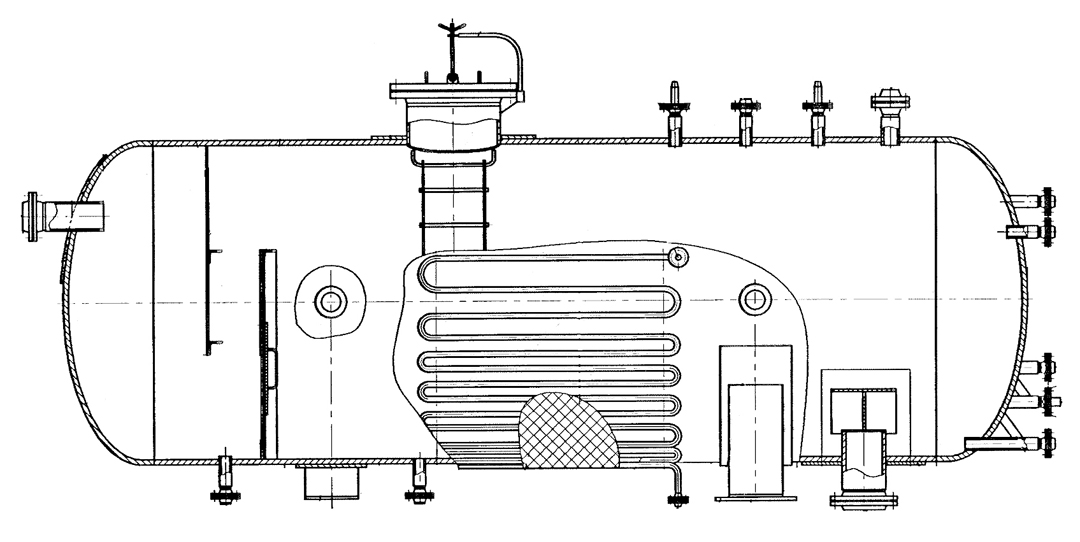 Technical characteristics of oil gas separators
volume - from 12 m3 to 200 m3
liquid capacity - 1500-12000 m3/day
the performance of the SNG-W - 1000-8000 m3/day
the performance of the SNG-K - 1500-10000 m3/day
pressure - 0.6-4.0 MPa
the pressure of SNG-W and SNG-K - 0.6-1.6 MPa
the liquid content in the gas at the outlet is up to 1.0 g/Nm3
working fluid of hazard class 1 (according to GOST 12.1.007-76), explosive, flammable
minimum operating temperature is -70ºC
Oil gas separators manufacturing
The Saratov Reservoir Plant has the necessary Certificates of conformity for the oil gas separators production.
Manufacture process starts with the preshaping of shells, heads, supports, hatches, fittings and nozzles. Further, automatic or manual welding of all elements into a cylindrical container is carried out. An important step is weld inspection, as the joints of the metal are most prone to destruction because the physical properties of steel change. Therefore, only resistant steels are used, which are least exposed to the negative effects of the corrosive environment. Thus, low-alloyed structural steels (09G2C or 16GS depending on operating temperature) are used.
After weld inspection, leakage and high-pressure tests, sandblasting of surfaces with subsequent application of anticorrosion substances (primer, enamel) is carried out.
Severe operating conditions (due to oil and gas properties, loading, capacity) should have minimal effect on the surfaces and ensure their safe operation throughout the service life (over 20 years).
Summary tables of technical characteristics of oil, gas and water separators can be found here.
How to order oil gas separators production at the Saratov Reservoir plant?
In order to buy oil gas separator SNG , You can:
call at +7(8452)250-288
email and send the minimum technical requirements to the equipment
download the Questionnaire, fill it in and email
use "Request for quotation" form, fill in the contact information and our specialist will contact You
We perform a full range of services: design development, volumecalculation depending on the required performance, the selection of the steel grade and method of anticorrosive treatment, oilfield equipment manufacturing, shipping separation units, installation of separator tanks and vessels and their commissioning.
At all-in-one service package order and wholesale order of manufacturing products we provide special terms and conditions.
See also: