Print version
Silos for bulk materials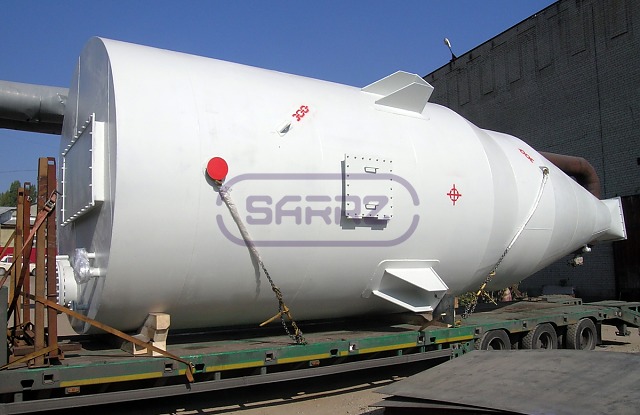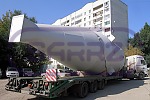 Description
Silos for bulk materials are intended for storage: the standard grains - wheat, rice, corn, etc.; oilseeds - sunflower, soy; artificial materials - sand, cement, etc. Their application provides security for the stored product from the atmospheric precipitation, direct sunlight, prevents spoilage of grains and cereals caused by rodents and birds.
The volume of the finished silo depends on the individual requirements to the industrial facility: for small productions, the capacity 5 m3 and more is optimal, for large ones - 1000 m3 and more.
Silos for bulk materials are mounted aboveground, which requires preliminary preparation of the foundation with waterproof. The equipment can be operated at any time of the year and with any facility activity schedule in regions with warm, moderate-cold and cold climate.
Silo for bulk materials design
The body appears as a single-wall leaktight vessel made of structural steel St3sp5 or 09G2S. The roof is flat or conical with an angle of 15°-30°.
The bottom type is chosen according to the technological needs of the facility and can be flat or conical with an angle of 45° or 60°-66° for difficult bulk substances. The flat type is designed for long-term storage and/or handling of large quantities of product.
Silos with conical bottoms are mainly used for short-term storage, for example, for drying or cleaning of the material. They are installed on metal supports, the height of which depends on the shipping method by over-the-road truck transport or railway one.
Equipment and complete set of silos for bulk substances
The standard set includes stairs, service platforms oand support. When grouping a passage with crash barrier is installed above the roof of each vessel.
The internal equipment depends on the Сustomer's requirements to the project and the type of the stored product. In case of working with fine product (sand, cement, powder, etc.), which is not able to self-induced discharge, be sure to install such devices as:
industrial bottom vibrator or aeration system to prevent the caking of particles and blockage of the discharge hole;
screw (spiral conveyor), which eliminates dusting when bulk substances discharge;
screw paddle which shuts off the particles flow to the hopper.
At the Сustomer's request it is possible to expand a complete set with flag (rotary) level transmitters and strain gauges for weighing and level detection.
Technical characteristics* of steel silos for bulk materials
| Criteria | Value |
| --- | --- |
| Capacity | 5 m3 and more |
| Design shell temperature | +60°С |
| Density of stored substance | up to 450 kg/m3 |
| Corrosion velocity | 0,1 mm per year |
| Corrosion allowance | 1 mm |
| Material | St3sp5, 09G2S |
| Projected service life | up to 10 years |
| Number of stress cycles throughout service life | up to 1000 |
Dimensions and weight depend on the silo capacity specified by the project, as well as the requirements for materials and equipment.
If necessary, additional corrosion-preventive compound application on the shells is provided, which increases the resistance of steel to negative impact of the environment.
Nozzle schedule of steel silo with capacity of 80 m3
| Designation | Assignment | Nominal diameter DN, mm | Pressure Pnom, MPa |
| --- | --- | --- | --- |
| A | product inlet | 1500х800 | - |
| B | vent pipe | 150 | 1.6 |
| C | product outlet | 900х600 | - |
| E | level gauge | 50 | 1.6 |
| F | level gauge | 50 | 1.6 |
| G | level gauge | 80 | 1.6 |
| D | reserve | 50 | 1.6 |
| IH1 | manhole | 600х600 | - |
| IH2 | manhole | 600 | 0.6 |
*The specifications are for reference and may differ from those given in the project.
The advantages of ordering of silos for grain and fodder at the Plant SARRZ
Qualified staff provides a full range of services from equipment manufacturing to mounting.
Fast delivery within the specified time by automobile transport and rail.
Individual terms of cooperation and challenging (with non-standard characteristics) project implementation.
Competitive price due to work without intermediariesв.
How to buy silo for bulk products?
To order a steel silo and specify the terms of production, You can contact the plant representative with one of the following ways:
call at +7(8452)250-288 for all regions
call at +7(8452)250-288 for Saratov and Saratov region
e-mail operating requirements or technical specifications at
use the form "Request for quotation", provide contact information, and our specialist will contact you
See also: