Print version
Rectangular tanks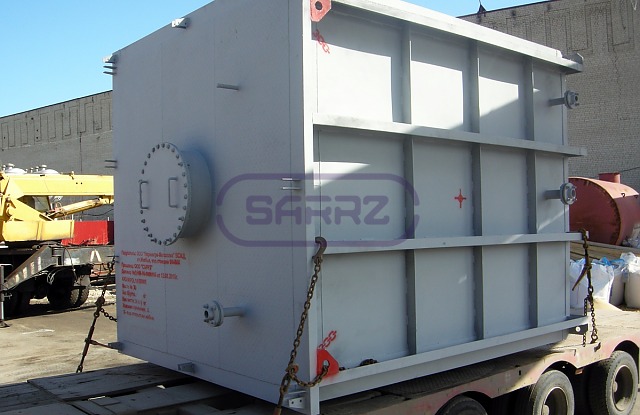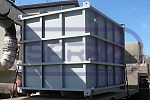 Description
Rectangular tanks are used as fire tanks, for storage of process and drinking water, light and heavy petroleum products. This form allows to install the tanks not only in the open space, but also indoors. At the facility they are located both aboveground and underground.
Advantages of rectangular tanks (in comparison with cylindrical tanks)
maximum efficient use of the entire volume
rational use of the facility area due to compactness
short production time
less metal consumption
Production of rectangular tanks at the Saratov Reservoir Plant
The Plant SARRZ manufactures rectangular tanks up to 100 m3. Depending on the properties of the stored product, low alloy, stainless or galvanized metal sheet is used.
The structural design depends on volume and Customer's requirements: rectangular tanks are made monolithic or appear as pre-fabricated assembly. The monolithic construction contributes to the rapid installation work. In the case of a prefabricated structure, all elements are delivered in separate metal panels, which are welded at site. To guarantee the geometry fidelity of the elements controlled assembly is carried out at the Plant.
The inner surface undergoes corrosion control treatment with primer and enamel.
Design consideration of rectangular tanks
Our Plant manufactures the following structural designs:
monolithic or prefabricated
with smooth shells or ribs
To store two or more different liquids division walls can be provided inside.
The choice of design depends on the design solution, operating conditions, pressure, location mode and other factors.
The nozzles and pipe branches are provided in the shell and the roof to connect flow line and pumping-out line, technological equipment installation. Manhole is traditionally located at the secondary tank, but it is possible to design it on the roof. Supports are welded to the bottom and form free space.
To allow access to the roof, stairs and a service platform can be additionally supplied.
Drawings of a rectangular tank with a volume of 16 m3
A-manhole, A1-hatch, B-the drain fitting, V- filling fitting , G-for level gage, D-pump, E-connection to the process chain, J-for emptying the tank, I-vent pipe
Calculation of a rectangular tank
Rectangular tank shape dictates the need for careful calculations aimed at ensuring structural integrity and saving of geometry throughout service life.
When designing, singlesided hydrostatic and radial pressure, pressure from the ground (in case of underground installation) and other parameters are calculated.
Technical specifications
№
Criteria
Value
1
Volume, m3
up to 100
2
Pressure
loading
3
Operating temperature
from -40ºС to +40ºС
4
Operating product
petroleum products, drinking water, process water, chemicals, alkalies
5
Material
St3sp, 09G2S
6
If requiered

stress relieving of welds
coating
heating system

7
Service life, years
20
How to find out the cost of a rectangular tank?
In order to design and purchase a rectangular tank produced by our Plant, You can:
contact our experts by phone +7(8452)250-288
send a request for design at e-mail
See also: