Print version
Vertical apparatus with conic head and flat top head (VKP), with/without coil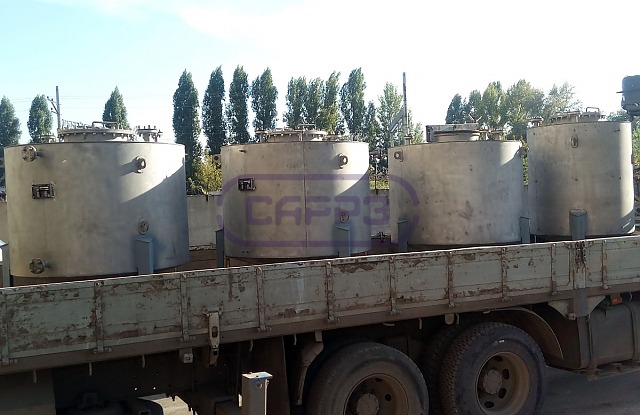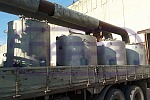 Description
Vertical apparatus with conic head and flat top head (VKP) are used to store liquid operational product at atmospheric pressure, and also as sedimentation tanks. They can be used with non-explosive, and non-toxic liquids of 3 and 4 hazard classes (in accordance with the classification in GOST 12.1.004-76).
Operating conditions
working environment - oil products, fuels and lubricants, oils, food products, chemicals
density - up to 2000 kg/m3
nominal pressure - up to 0.07 MPa
pressure in the coil (if available) - up to 0.6 MPa
ambient temperature - from -60ºС to +50ºС
only aboveground accommodation
Construction of all-welded vertical vessel with conic head and flat top head
They are an all-welded vertical cylindrical housing with a conical underscored head and flat top head which is mounted on lug- or leg-supports. There are fittings that are provided in the shells for the installation of technological equipment - level gauge, thermometer, pressure gauge, safety valve, pump, etc.
Vessels can be manufactured with a coil - an integrated tubular preheater designed for heating, if product viscosity is too large to drain at low temperatures. The preheated water is used as the heat carrier, which is supplied to the heat exchanger at a pressure of up to 0.6 MPa.
The conical head is very convenient for draining liquids from the lower part by gravity. They can be manufactured with angles of 60º, 90º or 140º. Unmapped heads are used for operation up to 0.07 MPa.
Commond terms to order at the Saratov Reservoir Plant
Vertical apparatus-1-1(4)-25-0 is a vertical vessel with a conical head and flat top head, all-welded (1), without a "jacket" (1) / with a "jacket" (4), 25 m3, at atmospheric nominal pressure
Manufacture of all-welded vertical apparatus with conic head and flat top head
The Saratov Reservoir Plant has the necessary Certificates of Conformity for the production of tanks and vessels for various purposes.
We produce vertical apparatus VKP from low-alloyed (09G2S, 16GS, 10G2), carbon (St3sp), acid-resistant (12Kh18N10T, 10X17N13M2T, 10X17N13M3T and 06HN28MDT) steel grades. Choice of material depends on the characteristics of the work product and operating conditions.
Vertical vessels VKP are manufactured with or without a coil with a volume of 10 m3, 16 m3 and 25 m3.
Their production is carried out on the basis of at the Сustomer's request for equipment and a filled in Questionnaire.
Drawing of VKP without heating coil
Drawing of VKP with heating coil
Nozzle schedule
(location and application of the fittings may vary depending on your order)
| Designation | Application |
| --- | --- |
| А | hatch |
| B | product inlet |
| V | product outlet |
| G | overtop |
| H | for the column of tubular level gauge |
| K | for level gauge |
| L | for thermometer |
| M | reserve |
| N | coolant inlet |
| P | coolant outlet |
Overall size of Vertical apparatus VKP
Volume, м3
D, mm
D
d
D
d
D1
D1
Overall size, mm
Weight, kg
mm
mm
mm
mm
mm
mm
L
B
H
with coil
without coil
Apparatus on lug supports
10
2200
2570
35
-
-
-
2010
2690
2690
3825
2120
2040
16
2600
3125
42
-
-
-
2410
3255
3255
4325
3395
3305
25
2800
3490
42
-
-
-
2610
3620
3620
5525
4770
4680
Apparatus on leg supports
10
2200
-
-
2010
35
2570
-
2360
2365
3825
2120
2040
16
2600
-
-
2410
42
3125
-
2730
2740
4325
3370
3280
25
2800
-
-
2610
42
3490
-
2920
2925
5525
4770
4680
The summary table of technical characteristics of vessels of various types can be found here.
Ordering of a all-welded vertical apparatus with conic heads and flat top head at Saratov Reservoir Plant
To calculate the cost of Vertical vessel VKP manufacturing, which includes the selection of equipment, structural design, steel structures details developing (at the Сustomer's request, metal structures developing) and the production of the vessel itself, You can:
We also carry out the delivery to the place of operation across Russia and near abroad. If required we provide installation services.
See also: