Print version
Tank hatches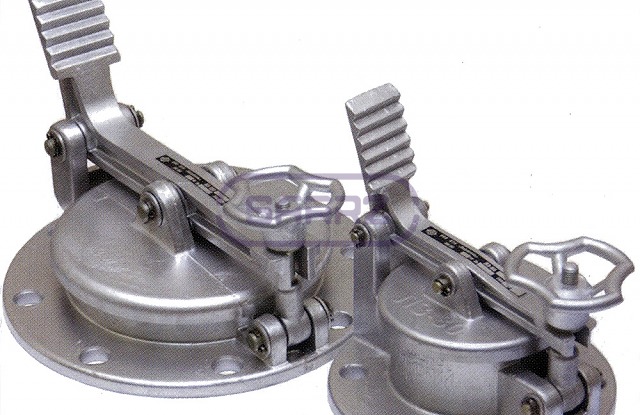 Description
Tank hatches and cleanout holes are operating equipment and are necessary for operation and maintenance of vertical or horizontal tanks and vessels.
The Saratov Reservoir Plant supplies equipment of its own production:
gauging hatches LZ
light hatches LS
manhole hatches LL
bottom cleanout boxes
cleanout holes
The application and design of tank hatches
Their main function is to provide access to the tank or vessel for maintenance and repair. In terms of design, they have a round or oval shape. The inner edge should have a coating that does not form sparks of friction resulting from Sampling equipment and measuring devices moving.
Gauging hatches LZ are designed for mounting of equipment to determine the oil level or sampling. Hatches LZ are installed on the mount nozzle or the neck. To prevent unauthorized access, tamper-evident sealing may be performed. The Plant supplies two sizes of LZ hatches: LZ-80, LZ-150.
Gauging hatch LZ
Criteria
LZ–80
LZ–150
Nominal diameter (neck diameter), mm
80
150
Overall dimensions, mm:
diameter, D
185
260
width, L
226
285
height, Н
185
240
Connection size, mm:
D1
150
225
d
18
18
n
4
8
Weight, kg, max
2,3
5
Light hatches LS are installed on the inlet - distribution nozzle for the light access inside, ventilation during defects examination or cleanout, maintenance control or repair. The sealing of the tank hood is guaranteed by the tightening.
Light hatch LS
Criteria
LS-200
LS-300
LS-400
LS-500
LS-500П
LS-600
LSC-1000
Nominal diameter DN, mm
200
300
400
500
500
600
1000
Overall dimensions, mm, max
diameter D
350
455
535
640
640
760
1175
height H
362
500
4462
562
600
562
603
Reinforcing plate diameter, mm, max
440
650
860
1100
1100
1160
1500
Weight, kg, max
32
55
69
104
110
140
200
Manhole hatches LL are mounted in the first ring of the vertical tank to provide maintenance control or repair. Installation of LL hatches on tanks with a pontoon or floating roof is carried out to provide access to the roof. The hatches are equipped with davit arms and have a tightening to seal the hood. Plant SARRZ supplies manholes LL in the following sizes depending on the tank capacity: LL-500, LL-600, LL-800, oval manhole LL 600x900.
Bottom cleanout boxes are installed in the lower ring of vertical tanks and are used for bottom sediments removal. The cleanout boxes provide access to perating personnel to the inside to carry out maintenance and repair. Especially this type of hatches is essential for normal operation of vertical tanks for viscous oil storage. The Plant SARRZ supplies bottom cleanout boxes in three sizes: 600x600, 600х900, 900х1200. (full details you may find here)
Cleanout holes are used for bottom sludge removing of vertical tanks or sludge generated in the interstitial space of the tanks with a protective wall ("a glass in a glass"). These holes are mounted under the bottom or the shell of the tank. The exact layout depends on the type of bottom: in tanks with a bottom pitch from the central point the cleanout hole is installed next to the shell within 500 mm; in tanks with a bottom pitch to the central point it is mounted under the bottom in the center; in tanks with flat bottom it is buried in the catch pit under the shell. Depending on the operating conditions, we complete the tanks with a trough or round cleanout holes.
| Criteria | D50 | D80 | D100 | D150 |
| --- | --- | --- | --- | --- |
| Pipe diameter | 57 | 89 | 108 | 159 |
| Pipe wall thickness | 5 | 5 | 5 | 6 |
| Diameter | 600 | 900 | 1200 | 1500 |
| Depth | 300 | 450 | 600 | 900 |
| Plates thickness | 8 | 10 | 10 | 12 |
Hatches and cleanout holes supplied by the Saratov Reservoir Plant provide:
large amount of open/close operation cycles (time to failure)
interface integrity and joint tightness
high corrosion resistance of steel grades used
trouble-free performance throughout service life of the equipment
The hatches and the holes are supplied optionally together with a vertical tank at the Customer's request. It is possible to order manufacture of manholes and hatches separately.
How to purchase hatches for a vertical tank of any design?
In order to calculate the cost of gauging hatches LZ, light hatches LS, manhole hatches LL, bottom cleanout boxes, cleanout holes, You can:
See also: