Print version
Vessels with flat head, split flat head and agitator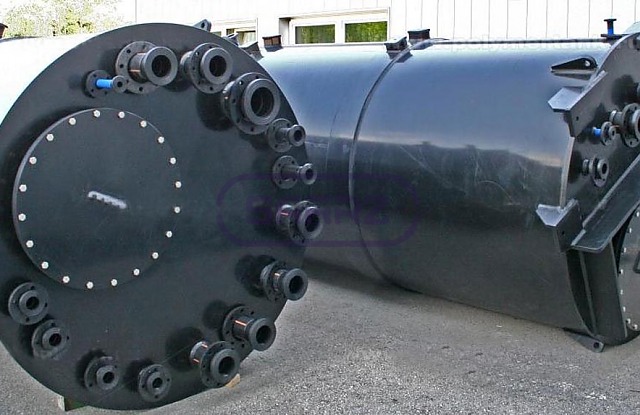 Description
Vessels with a flat head and a flat split head and an agitators are used in oil and gas, chemical, food industries to obtain a homogenized composition. They are also used for mixing, emulsionizing, suspending, fermentation and disintegration of substances with a particles mass fraction not more than 30%. Various substances are mixed in them. As a result of the mixing heat buildup occurs. Liquids and liquid-gas mixtures, both neutral and toxic, aggressive, dangerously explosive and fire-hazardous can act as operating medium.
Moreover, the medium must meet the following requirements:
their temperature should be in the range of -40ºC to +350ºC
the dynamic viscosity must not exceed 200 Pa x s
the density should not be higher than 2000 kg / m3
All the basic rules for the design and manufacture of apparatus with a flat head and split head and stirrer are given in GOST 20680-2002 "Vessels and apparatus with mechanical mixing devices. General technical specifications".
The design of the vessels with a flat head and a split head and an agitator
The body appears as a vertical cylindrical vessel with a flat head and a flat head. The pressure, which takes up the flat head, is higher (compared with elliptical one), so for safe operation the vessels with a flat head are made under pressure to 0.07 MPa, but not less than 665 Pa.
The body is made split, that is, the head is attached by means of flange connections. and can be removed for maintenance and cleaning.
This type of apparatus does not have an outer jacket. For working environment heating or cooling the vessels can be equipped with an internal coil or an electric heater. In the coil circulating heat-transfer medium creates the necessary temperature.
The heat-transfer medium in a coil can work vice versa: if due to blending of liquids thermal energy is generated, it can be taken away by the heat-transfer medium and distributed to Consumers.
Depending on the Customer's requirements, fittings and hatches are provided, which serve as technological holes for the installation of measuring equipment (pressure gauge, thermometer) and relief valves (safety valve). There should be provided a hatch in high volume vessels through which scheduled maintenance is carried out.
Mechanical mixing device is installed into the head on the pillar. The design and type of the agitator is selected based on the medium characteristics - density, viscosity, temperature. For example, for mixing of the substances with a viscosity of up to 50 Pa x s, blade (three-bladed, six-bladed), gear, turbine, frame agitators are used, and for mixing of more viscous liquids (more than 50 Pa x s) - spiral, ribbon (with scrapers) agitators are applied.
Tightness preservation at the junction of the head and the mixing device shaft is provided by seals, the type of which is selected on the basis of aggressiveness/toxicity degree of the working environment: for liquids of 1,2,3 hazard categories double mechanical seals are recommended; for liquids of hazard category 4 (i.e. for neutral) - single gland or hydraulic seals.
Below we give a standard fittings location.
The drawing of the split vessel with a flat heads and an agitator
Nozzle schedule
| Designation | Application |
| --- | --- |
| А | product inlet |
| B | reserve |
| G | for pressure safety valve |
| D | for temperature meter |
| E | reserve |
| J | for pressure gauge |
| K | heat-transfer medium inlet |
| K1 | heat-transfer medium outlet |
| L | reserve |
| O | product outlet |
| P | for product overflow |
Production of apparatus with flat head and split head and mixer at the Saratov Reservoir Plant
The Plant manufactures vessels of this type with a volume of up to 16 m3 and under pressure of up to 0.07 MPa. The material is selected according to the corrosion behavior of the medium, the product temperature and the operating site temperature. Since working environments often have high corrosion rates, the most common materials are steel grades St3sp (carbon) and 12X18N10T (stainless titaniferous austenitic).
Command term to order a vessel
Vessel 80-10-0.6К-Т-1ЕхdIIВТ4-N3
8 - with a flat head and a flat split head
0 - without heat exchanger (1 - smooth jacket; 2 - with a half pipe jacket; 3 - with a jacket with buckles; 4 - with an electric heater)
10 - volume, m3
0.6 - pressure, MPa
К - corrosion-resistant steels and alloys (U-carbon and structural, K-corrosion-resistant steels and alloys, double-layer steel)
Т - seal type (T-mechanical, gland, G-hydroseal)
1ЕхdIIВТ4 - explosion-proof design of electric driving motor
N3 - climatic category and placement category according to GOST 15150-69
We perform a full range of services for equipment supply:
design of fittings, hatches, materials selection and mounting
choice of anti-corrosion protection
manufacture
delivery
The Plant produces split vessels with flat heads according to standard drawings and schemes, as well as individually. In the latter case, we develop the most optimal structural design and fittings location design in accordance with the operating conditions.
How to buy a split vessel with flat heads and an agitator at SARRZ?
To order a vessel with a mixing device and split flat head You may:
See also: