Print version
All-welded vessels with elliptical heads and agitator
Description
All-welded vessels with agitator, elliptical head and head are used in oil and gas, chemical and food industries. Their main purpose is the mixing of one or more homogeneous or heterogeneous liquids to obtain a homogeneous consistency (paint, emulsion, suspension, paste, glue, etc.). In addition, they perform the following functions: emulsionizing, suspending, homogenization, heat mass transfer enhancement, as well as carrying out chemical reactions (in stirred reactor).
The following requirements are applied to working fluids:
their density should not be more than 2000 kg / m3
the dynamic viscosity must not exceed 200 Pa x s
particles mass fraction - max 30%
temperature - from -40ºC to +350ºC
Design and operation of all-welded apparatus with elliptical heads and mixing device
The body is a vertical cylindrical all-welded vessel with an elliptical shape of the heads. At the operational location, they are mounted on supports. There are fittings and hatch (s) in the heads. The layout, number and application of fittings depend on individual demands of the Customer. Main equipment, which are supplied with all the vessels, is safety valve, pressure gauge, thermometer. These devices are necessary to ensure safe operation, as they operate under overpressure up to 6.3 MPa. If they are operated without pressure, i.e. under loading, the residual pressure should not be less than 665 Pa.
The all-welded construction does not involve the removal of the head for maintenance or cleaning.
The agitator is mounted on top of the pillar. The place where the stirrer shaft and the head are in contact are connected by mechanical or gland seals or a hydraulic seal. The type of seal is designed based on the characteristics of the working medium.
The Plant supplies several modifications of stirrers, which are most suitable for different fluids. So, depending on the density and viscosity of the product, we offer:
blade (three-bladed, six-bladed), gear, turbine, frame agitators for media with viscosity up to 50 Pa x s
spiral, ribbon (with scrapers) agitators for media with viscosity more than 50 Pa x s
If heat generation results from operational process, it is transferred to a coil with a coolant located inside. It is also possible to use a coil, on the contrary, for heating or cooling the product.
The specialists of the Saratov Reservoir Plant perform both the design/manufacture of all-welded vessels on the basis of the Questionnaire and technical specifications, as well as production according to the provided drawings and schemes.
Overall dimensions, fittings layout, their application, type of mixing device, color scheme are custom designed.
For your convenience, we present the command term of the described above vessels for ordering:
Apparatus 10-10-1.6U-T-1ЕхdIIВТ4-N3
1-body type: all-welded with elliptical heads
0-the presence and type of heat exchanger (0-without, 1-with a smooth jacket, 2-with a half pipe jacket, 3-with a jacket with buckles, 4-with an electric heater)
10-nominal volume, m3
1.6-pressure, MPa
U-steel grade(U-carbon and structural, K-corrosion-resistant, double-layer steel)
Т-seal type (T-mechanical, C-stuffing box, G-hydraulic seal)
1ЕхdIIВТ4-explosion-proof design of electric driving motor
N3-climatic category and placement category according to GOST 15150-69
The drawing of all-welded apparatus with elliptical heads and mixing device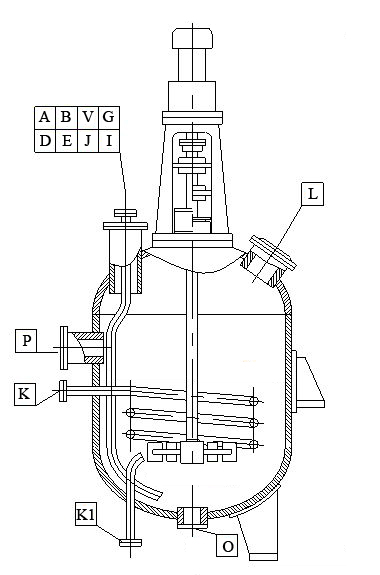 Nozzle schedule
| Designation | Application |
| --- | --- |
| A | product inlet |
| B | reserve |
| V | reserve |
| G | for pressure safety valve |
| D | calm down pipe |
| Е | reserve |
| J | for pressure meter |
| I | for temperature meter |
| К, К1 | heat-transfer medium inlet/outlet |
| L | hatch |
| О | product outlet |
| P | for overflow |
Manufacture of all-welded vessels with elliptical heads and stirrer up to 50 m3 at the Saratov Reservoir Plant
This type of vessels are manufactured according to the state standard GOST 20680-2002 "Vessels and apparatus with mechanical mixing devices. General technical specifications".
According to it, when producing the following materials are used:
carbon steel St3sp
stainless titaniferous austenitic steel 12X18N10T
We may also produce all-welded apparatus with agitators from other steel grades according to your request. Our specialists consider the corrosion and chemical characteristics of the working fluid, its degree of aggressiveness, explosion risk and flammability.
For environmental protection and protection from the product adverse impact the surfaces are coated with anticorrosive agents (primer, enamel, etc).
How to get a quote of all-welded apparatus (vessel) with agetator and with elliptical heads at the SARRZ?
To order the manufacture of the all-welded apparatus (vessel) with elliptical heads and agetator, You may:
See also: