Print version
Vessels with elliptical head, split elliptical head and agitator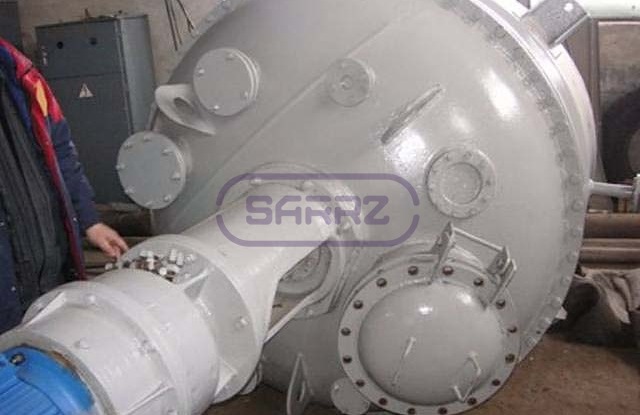 Description
Vessels with split elliptical head and agitator are used in different petrochemical facilities, where there is need to mix multi-phase medium to obtain a homogeneous constitution in the technological purposes (homogenization), emulsionizing, dispergating, suspending, etc. They are manufactured in vertical orientation. The head is split, which makes it easy to carry out maintenance or inner surface cleaning.
For safe and long-term operation, certain requirements are imposed on working medium:
neutral, aggressive, toxic, flammable and explosive, liquid-gas mixtures
the density should not exceed 2000 kg/m3
the dynamic viscosity should be no more than 200 PA x s
particles mass fraction - not more than 30%
media temperature — from -40ºC to +350ºC
The Saratov Reservoir Plant manufactures vertical vessels with elliptical split head and mixer up to 10 m3 in accordance with GOST 20680-2012 "Vessels and apparatus with mechanical mixing devices. General technical specifications" and RD 26-01-90-85 "Mechanical mixers. Design procedure".
Technical characteristics of apparatus with split elliptical head and agitator
the maximum pressure is 6.3 MPa
the residual pressure - not less than 665 Pa
volume - from 0.16 m3 to 10 m3
Depending on the medium characteristics, the vessels are manufactured of the following steel grades:
carbon steel St3sp
stainless titaniferous austenitic steel 12Х18N10T
Vessels with split head and agitator design
The body appears as vertical cylindrical vessel with an elliptical head and a split elliptical head. The joint of the head and the body is completely sealed. Fastening is flange.
This type of apparatus is produced without heating system. If it is necessary to heat the operating fluid, it is possible to use a coil or heater.
At the facility, the vessels are mounted on supports. To function, fittings are provided, the location and application of which are custom designed.
Agitator is installed in the upper part of the body. It is attached by means of a pillar. The type and design of the agitator is chosen at the design stage: the density and viscosity of the liquid are important factors. So, our Plant offers the following types of stirrers: blade (three-bladed, six-bladed), gear, turbine, frame, spiral, ribbon (with scrapers).
The most common are vessels with a spiral stirrer which is a shaft or a plug with welded belt of a certain intervals.
A very important element is the mechanical and stuffing box seal at the junction of the agitator shaft and the vessel itself, due to which tightness is guaranteed throughout the service life.
The identity code of the vessels at order
Apparatus (vessel) 00-10-0,6 K-T-1ЕхdIIВТ4-N3
0 - with elliptic head and split elliptic head
0 - without heat exchanger (1-with a smooth jacket; 2-with a half pipe jacket; 3-with a jacket with buckles; 4-with an electric heater)
10 - volume, m3
0,6 - pressure 0.6 MPa
К - corrosion-resistant steels and alloys (U-carbon and structural steels, K-corrosion-resistant and double-layer)
Т - seal type (T-mechanical, С-stuffing box, G-velocity)
1ЕхdIIВТ4 - explosion-proof design of electric driving motor
N3- climatic category and placement category of the equipment according to GOST 15150-69
Drawing
Nozzle schedule*
| Designation | Application |
| --- | --- |
| A | product inlet |
| B | reserve |
| V | reserve |
| G | for pressure safety valve |
| D | for displacement |
| E | reserve |
| J | for pressure meter |
| I | for temperature meter |
| K, K1 | heat-transfer medium inlet/outlet |
| L | hatch |
| O | product outlet |
| P | for overflow |
*another location and distribution of fittings is possible according to Customer's requirement
How to order the production of split vessel with an elliptical head and a stirrer at the Saratov Reservoir Plant?
To buy it, You can:
Specialists of the Plant perform complex services:
oil and gas facilities supply with equipment of own production
engineer surveys at the facilities
oil industry facilities design
installation of supplied equipment
See also: