Print version
All-welded vessels with elliptical heads, agitator and a half pipe jacket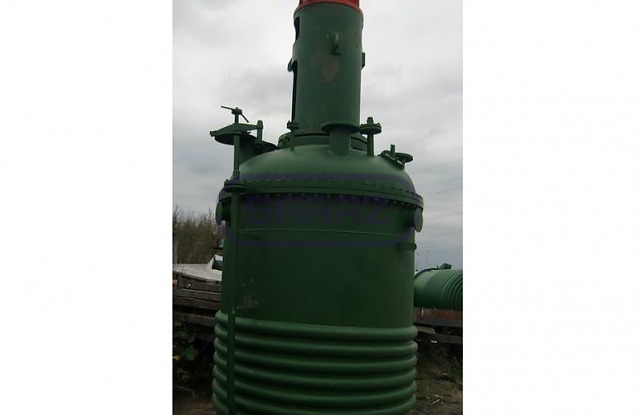 Description
All-welded vessels with elliptical heads, mixer and half-pipe jacket are used for various chemical and technological processes, for example, mixing, homogenization, suspending, emulsionizing , fermentation, mass and heat exchange, as well as disintegration of substances with particles mass fraction e up to 30%. As working media different substances may act: neutral liquids and gas, single-phase and multiphase compositions, aggressive, harmful, toxic, explosive and fire hazardous.
In accordance with GOST 20680-2002 "Vessels and apparatus with mechanical mixing devices. General technical specifications" the product is subject to a number of requirements:
the density should not be more than 2000 kg / m3
dynamic viscosity - not more than 200 Pa x
operating temperature - from -40ºC to +350ºC
Design features of the apparatus with stirrer and half-pipe jacket
The body is a cylindrical shell and one-piece elliptical heads. They are installed only aboveground in a vertical orientation on the supports. The elliptical heads are used, as the excess pressure can reach 6.3 MPa. They can also be operated under filling and vacuum - then the residual pressure should not be below 665 Pa.
There are nozzles of different diameters provided, through which the filling/drain, maintenance and repair (cleaning, purge) and filling with coolant is performed. The fittings are equipped with the necessary equipment for safe operation - safety valve, pressure gauge, thermometer.
Mixing devices are installed vertically on the pillar. The design and type of the agitator are selected depending on the density of the operating medium, composition, application of the vessel, temperature. So, specialists of the Saratov Reservoir Plant supply the following types of mixers:
blade (three-bladed, six-bladed), gear, turbine, frame agitators for fluids with dynamic viscosity up to 50 Pa x s
spiral, ribbon (with scrapers) agitators for media with viscosity more than 50 Pa x s
The joint of the agitator shaft and the head is sealed to maintain tightness: mechanical and gland seals and velocity seals may be used. For aggressive media (1, 2, 3 hazard categories) the most suitable are the mechanical (double) seals. For neutral (4 hazard category) - single mechanical, gland and velocity seals.
Selection of mixing device and seal is designed by the engineering department on the basis of the design premise provided in the Questionnaire or the technical requirements for production.
For your convenience, we give the command term to order a vessel.
Apparatus 12-10-1.6 K-T-1ЕхdIIВТ4-N3
1 - all-welded with elliptical heads
2 - with the half-pipe jacket (0-without heat exchanger; 2-with a half pipe jacket; 3-with a jacket with buckles; 4-with an electric heater)
10 - volume, m3
1,6 - pressure, MPa
К - corrosion-resistant steels and alloys (U-carbon and structural, K-corrosion-resistant, double-layer steel)
Т - seal type (T-mechanical, gland, G-hydroseal)
1ЕхdIIВТ4 - explosion-proof design of electric driving motor
N3 - climatic category and placement category according to GOST 15150-69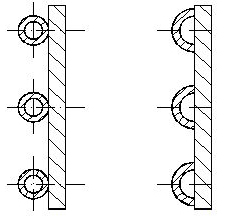 Sometimes it is necessary to heat or cool the operational product. To do this, a half-pipe jacket may be welded to the outside surface of the shell, which is filled with a coolant (water steam, water, condensate, antifreeze, etc.). Their peculiarity is that the inner pressure may reach more than 1.1 MPa. Half-pipe jacket is applied when heat-transfer medium should come to high speed for heating. This heat exchange system is a coil made in the form of a half-pipe. Pipe jackets can be used to circulate the coolant under high pressure and speed. (see comparative image)
Production of one-piece (all-welded) apparatus with elliptical heads, mechanical mixing device and a pipe/half-pipe jacket
The Plant manufactures vessels with agitators as per standard drawings and individual order.
Standard drawing of all-welded apparatus with stirrer and half-pipe jacket
Nozzle schedule
| Designation | Application |
| --- | --- |
| А | product inlet |
| B | reserve |
| V | reserve |
| G | for pressure safety valve |
| D | calm down pipe |
| Е | reserve |
| J | for pressure gauge |
| I | for temperature meter |
| L | hatch |
| N, N1 | heat-transfer medium inlet/outlet |
| N2, N3 | heat-transfer medium inlet/outlet |
| О | product outlet |
| P | for overflow |
To manufacture two steel grades are mainly used, such as St3sp (carbon steel) or 12H18N10T (stainless titaniferous austenitic steel ). It is possible to produce from other steel grades that meet the requirements for strength, impact hardness and other parameters.
For anti-corrosion protection, the inner and outer surfaces of the shells are covered with protective compounds, soils, enamel, painted in the desired color (based on Customer feedback).
How to buy an all-welded vessel with agitator and a half-pipe jacket?
To calculate the price of the appratus, You may:
See also: