Print version
Diesel storage facilities upgrading in the Khanty-Mansiysk Autonomous Region
Customer: A major supplier of motor fuel
Location: the Khanty-Mansiysk Autonomous Region - Yugra
Company sector:
A major supplier of LP gas fuel.
Date of works held:
November 2020 - ongoing
Project:
Updating of the tank farm for light petroleum products storage
Two vertical steel tanks VST-4000 and VST-3000 were designed and manufactured for the enterprise supplying diesel fuel in the KhMAD. At the moment, the second tank is being delivered. The first VST has already been erected and has been hydro-tested.
Main specifications:
Stored product - diesel fuel;
VST amount - 2 pcs with a capacity of 4000 m3 and 3000 m3;
Material - 09G2S-15;
Erection procedure - Roll method;
Seismicity - 6 scores.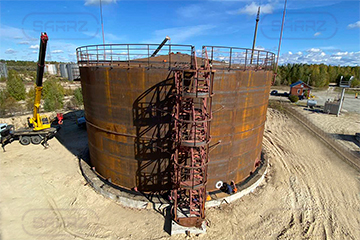 Specific features and complexities of the project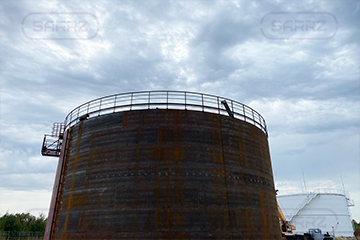 The severe climate at the construction site (temperature extremes and heavy precipitation) determined the timing of the work performed and the conditions for their implementation.
A whole range of engineering works was performed for the Customer including: foundation and KM project design, shop fabrication of the two vertical tanks with a capacity of 4000 m3 and 3000 m3, foundation work and steelwork erection, hydro-testing.
The Saratov Reservoir Plant proposed the future Customer a competitive price of all engineering works and the timing of their execution, so that the partner was confident that the project would be commissioned in accordance with the plan for the development and expansion of the light petroleum products tank farm.
The Saratov Reservoir Plant performed the following works:
foundation and KM projects design for the two vertical tanks with a capacity of 4000 m3 and 3000 m3;
vertical tank steel structures fabrication: rollable plates of bottoms with annular plates, shell plates, conical panel roofs;
delivery of the steel structures a by road;
construction and assembly work: foundation work, unfolding of the bottoms, erection of rolled shell plates, installation of fixed roofs, assemly of attachments, weld inspection at the facility (visual and measuring control, ultrasonic, vacuum processing, dye penetrant inspection, overpressure, hydro-testing).
Do you want to get a calculation of designed cost?
In order to find out the cost of the project, SARRZ makes engineering design based on the running conditions and Customer requirements. Information about the project and requirements:
may be discussed at +7(8452)250-288
may be sent by e-mail zakaz@sarrz.com in a form of a completed Data sheet or technical requirements (capacity, performance requirements, operating medium and its characteristics, operating conditions, general description of the production line)
The Saratov Reservoir Plant performs multiple services for the oil and gas facilities construction. We offer:
engineering surveys at oil and gas facilities, including highly dangerous and technically challenging objects
the design, project development and authority engineering approval of the oil and gas and chemical facilities construction
vertical tanks, vessels, apparatus and other metal structures fabrication
manufactured products delivery and installation in accordance with the tie-in design