Print version
Nitrogen receiver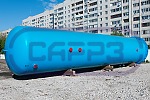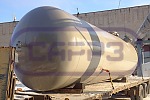 Description
Nitrogen receivers are storage tanks for compressed and dried nitrogen storing, filling and delivery for further use. Areas of application are chemical, oil and gas, metallurgical industries. They are also used in the field of nitrogen extinguishing, in heating systems, as part of process equipment (for example, nitrogen stations and generators, compressors).
They perform the following functions:
storage
cooling
surge control
maintaining pressure as a result of gas consumption (including uneven flow)
condensate collection
Design of nitrogen receivers
They are made in horizontal or vertical design. Vertical shell is the most common, as it is more ergonomic. Horizontal shape is used when there is no technical possibility for vertical installation, for example, when the height of the room does not allow. Also, nitrogen receivers up to 1 m3 in volume are more often produced horizontally.
The shell is a cylindrical vessel with elliptical heads. There are hatches for routine maintenance, fittings, nipples for supply and discharge and condensate drainage pipelines, equipment installation (pressure gauges, level gauges, valves, etc.) in the shells and heads. Depending on Customer's requirements, it is possible to fill and deliver gas through one fitting. One of the most important devices is a safety valve, since the equipment operates at a high pressure - up to 16 MPa. If pressure increase is uncontrolled, to ensure the destruction process does not start, a safety valve is triggered, through which the operational product is discharged into the atmosphere, thereby lowering the pressure.
On the site, the equipment is mounted on a welded cylindrical support.
In complex technological processes and high-capacity lines, serial or parallel installation of nitrogen receivers is possible.
Characteristics of nitrogen receivers
pressure - up to 16 MPa
volume - 1-200 m3
operating environment temperature - from -60°С to +300°С
ambient temperature - from -55°С to +50°С
Ambient class – cold, moderately cold, tropical climates
Drawing of nitrogen receiver of volume 10 m3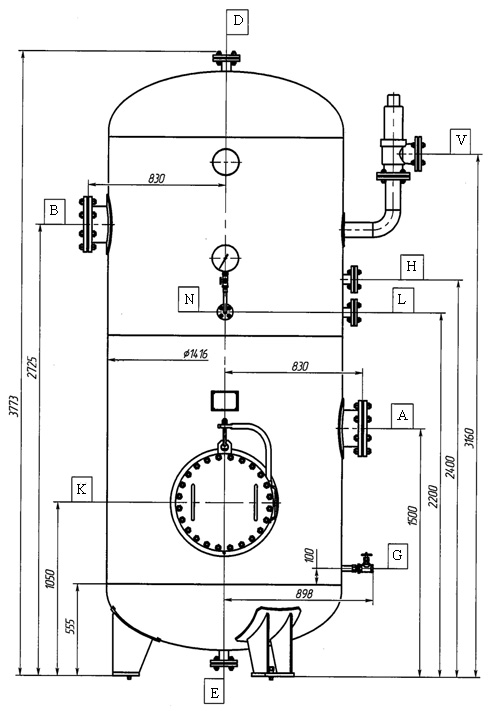 Fittings Assignment
А, B, К-hatches for service maintenance, repaire, cleaning operations, V-intake, G, L, H-for detectors, thermometers, D-condensation drainage, Е-nitrogen inlet, N-for pressure gauge
Manufacture of nitrogen receiver at Saratov Reservoir Plant
The Saratov Reservoir Plant has necessary Certificates of Conformity for the manufacture of air vessels and gas receivers.
Nitrogen receivers are produced by the rolling of shell and elliptical heads and their following welding.
For manufacturing, only high-strength steel is applied, to which the following requirements are imposed:
the material should not be exposed to chemical attack
it should have sufficient strength characteristics in order not to collapse in case of excess pressure
The following steel grades correspond to these requirements:
9G2S (carbon)
12H18N10T (stainless)
10H17N13М2Т (corrosion-resistant)
The outer surface must be covered with anticorrosive compounds to protect against the negative external influence.
The inner surface is covered with special compounds that minimize the negative impact of the aggressive operational product.
For selection of a nitrogen receiver, the following is taken into account:
required productivity
operating conditions (temperature, mode of placement)
gas properties
the maximum possible pressure
The summary table of technical characteristics of air vessels and receivers you can see here.
How to order nitrogen receivers produced by the Saratov Reservoir Plant
If you are interested in supply of nitrogen receivers, You can:
The Saratov Reservoir Plant performs multiple services for the oil and gas facilities construction. We perform:
engineering surveys at oil and gas facilities, including highly dangerous and technically challenging objects
construction facilities design
tanks and vessels production
home equipment installation
See also: