Print version
Argon receivers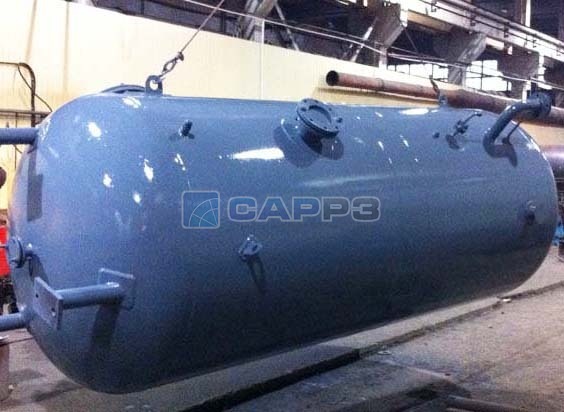 Description
Argon receivers are used in electrovacuum technology, metallurgy, metalworking, electric welding, when creating high-precision instruments and microcircuits, as well as in those manufacturing processes where it is necessary to create an absolutely inert atmosphere. Such popularity can be explained by the fact that argon is a very common, affordable and cheap gas, which is obtained by dividing air into oxygen and nitrogen.
As argon is a cryogenic gas, special vessels must be used to store it to ensure safe operation.
Construction of argon receivers
They are a horizontal or vertical vessels with elliptical heads for aboveground installation.
Their operation is carried out at a pressure of up to 1.2 MPa. It can cause explosive and fire dangerous emergencies. To ensure safe operation, pressure gauges are installed at the inlet and outlet, a set of safety and shut-off valves, which stops the gas flow in case of increasing pressure at the inlet or outlet.
Often, argon receivers are supplied and operated together with other process equipment, compressors or evaporator system.
The Saratov Reservoir Plant manufactures argon receivers with the following parameters:
pressure - up to 1.2 MPa
volume - from 1 m3 to 200 m3
construction - aboveground horizontal or vertical with elliptical heads on supports
product temperature range - from -60ºС to + 300ºС
the minimum ambient temperature - -60°C
Manufacture of argon receivers
The Saratov Reservoir Plant has the necessary Certificates of Conformity for the manufacture of air vessels and gas receivers.
For production, we choose only high-strength materials that do not react chemically with the operational product. So, the following steel grades are applied:
high-strength steel 09G2S
stainless titanium-containing 12X18N10T austenitic class
corrosion-resistant 10Х17Н13М2Т
Argon receivers are produced from sheet steel, which is given the shape of an all-welded cylindrical shell, in which service openings are provided for the installation of hatches and branch pipes for service inspection and deposit removal, gas supply and delivery into the production line.
To protect the internal and external surfaces from the negative impact of the environment or operational product, the shells and heads are covered with special anti-corrosion compounds that significantly extend the service life of the equipment. The color of the external coating depends on on customer feedback.
The quality of the products is confirmed by the Certificate of Compliance and the leakage test and high-pressure test carried out by the laboratory.
Drawing of vertical argon receiver of volume 16 m3
Nozzle schedule
| Tag № | Application | Diameter, mm |
| --- | --- | --- |
| А | access hatch | 450 |
| B | inlet | 300 |
| V | outlet | 300 |
| G | safety valve | 80 |
| D | capacity regulator | 15 |
| Е | pressure gauge | 20 |
| N | pressure gauge | 10 |
| P | condensate removal | 25 |
| Q | drainage | 50 |
| К | extra | 20 |
The summary table of technical characteristics of air vessels and receivers you can see here.
How to order an argon receiver at the Saratov Reservoir Plant?
Our specialists produce air tanks, vessels and receivers up to 200 m3 customized. In order to calculate the cost of manufacturing, delivery and installation:
Specialists of the Saratov Reservoir Plant perform package of services for the construction of oil and gas facilities:
engineering surveys
construction sites design
receivers, air vessels and other vessel equipment manufacture
equipment supply and installation on site
See also: