Print version
Hot water storage tank renewal in Novodvinsk
Customer: Paper mill
Location: Novodvinsk, Arkhangelsk Region
Company sector:
Pulp, paper and board industry
Date of works held:
March 2020 - October 2020
Project:
Hot water storage tank renewal in Novodvinsk
In order to provide the city with heat supply and hot water, the Saratov Reservuar Plant has completed a cycle of works on the supply of a hot water tank storage in an amount of 1 pcs according to the Customer`s request.
The hot-water tank was customized, taking into account the properties of processing medium and field conditions. The delivery package included: the tank itself, thermal insulation and pipelines.
Main specifications:
Stored product - hot water;
VST amount - 1 pcs of hot-water tank with a capacity of 2000 m3;
Material - AISI 304;
Erection procedure - plate-by-plate method.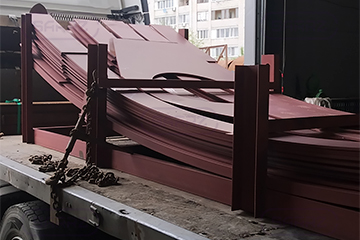 Specific features and complexities of the project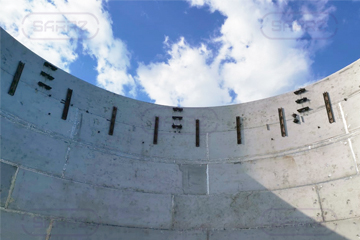 The main complexity of work is the high north conditions, which significantly hindered the progress of work. The major part of the work was carried out at temperature below freezing point and high humidity.
The main feature of the last project was the work in confined spaces at the facility. In this regard, the steel structures of the hot water tank were erected by the plate-by-plate method.
Schedule constraints complicated the procedure. The turnkey construction is 7 months.
The Engineering department has implemented the following scope of works on the hot water tank construction:
Preparation of designs (KM project, detailed design, heat insulator design);
heat insulator installation (insulant Rockwool 100 mm with a density of 100-150 kg/m3);
hydraulic tests and Non-Destructive Testing for Quality Assurance.
Do you want to get a calculation of designed cost?
In order to find out the cost of the project, SARRZ makes engineering design based on the running conditions and Customer requirements. Information about the project and requirements:
may be discussed at +7(8452)250-288
may be sent by e-mail zakaz@sarrz.com in a form of a completed Data sheet or technical requirements (capacity, performance requirements, operating medium and its characteristics, operating conditions, general description of the production line)
The Saratov Reservoir Plant performs multiple services for the oil and gas facilities construction. We offer:
engineering surveys at oil and gas facilities, including highly dangerous and technically challenging objects
the design, project development and authority engineering approval of the oil and gas and chemical facilities construction
vertical tanks, vessels, apparatus and other metal structures fabrication
manufactured products delivery and installation in accordance with the tie-in design