Print version
Tanks and oil and gas facilities design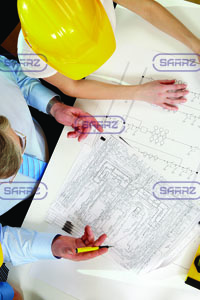 The Saratov Reservoir Plant uses a multifaceted approach while supplying of equipment: our Plant manufactures various tanks and vessels, as well as performs the following functions:
(You can see all the products manufactured by our Plant in the Catalogue.)
Designing of oil and gas industry facilities
At the design stage, the most effective design solutions are implemented, which guarantee the long and reliable operation of your facility in terms of environmental, explosion and fire safety. Therefore, it is so important to choose an experienced service provider.
Among the services provided the Plant's Design and Engineering Department offers the following types of work:
economic assessment, investment study and technical justification of the construction site
exploratory design and engineer survey
costimating of construction and installation works
development of the design documentation: basic (KM) and detailed (KMD) design
project planning and planning of production of work
If you are planning tank erection or vessel mounting at an oil and gas facility (petroleum storage depot, storage plant or transloading terminal, a fuel storage warehouse, etc.), we offer to perform all the necessary work - foundation design, piping arrangement design, automatic metering system of loading-unloading operations.
All works are carried out in accordance with the available permits.
Tanks and vessels design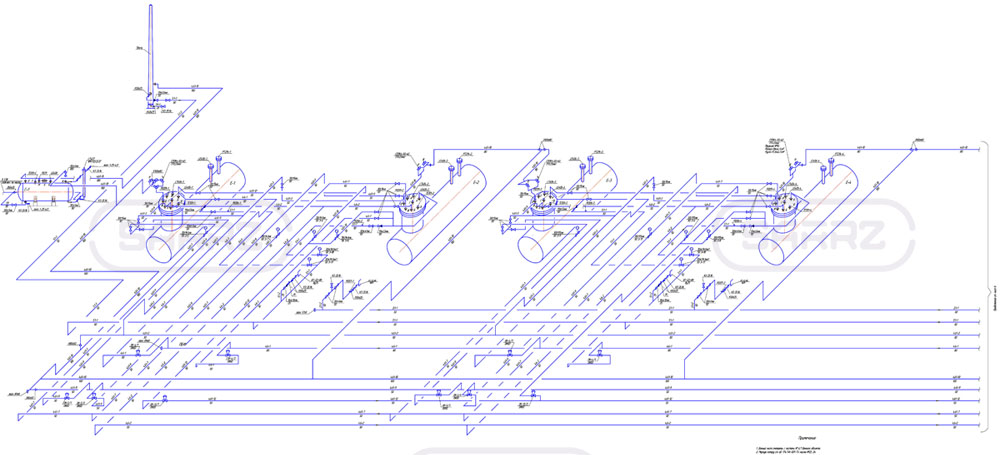 The following information is considered for the design:
designation of metal structures
operating conditions (area, temperature, humidity, seismicity, wind and snow loads, etc.)
data on the construction site
placement (above ground, underground, diked)
overall dimensions and volume of required storage tank
properties of the operational product: density, temperature, specific gravity, pressure, chemical properties, aggressiveness, explosion hazard
availability and type of thermal insulation, anticorrosion treatment
equipment configuration (hatches, sump, stairs, service areas, foam generators, breathing valves, etc.)
product turnover
The guarantee of a long service life and safe operation of the equipment is the correct load calculation on metal structures, the selection of metal and its thickness, the method of anti-corrosion protection, waterproofing, thermal insulation and other parameters. Specialists of the Saratov Reservoir Plant carry out design works for products of own production in accordance with the current rules and regulations to ensure the reliability of metal structures:
STO SA 03-002-2009 "Rules for design, fabrication and erection of vertical cylindrical steel tanks for petroleum products"
GOST 31385-2016 "Vertical cylindrical steel tanks for petroleum products. General technical specifications"
RD 16.01-60.30.00-КТN-026-1-04 "Rules for design of steel vertical tanks with capacity from 100 to 50000 m3"
SP 43.13330.2012 "Industrial enterprises facilities. Revised edition of SNiP 2.09.03-85"
STO 0048-2005 "Vertical cylindrical steel tanks for liquid products storage. Rules for design"
Safety Guide for vertical cylindrical steel tanks for oil and petroleum products
GOST 17032-2010 "Horizontal steel tanks for petroleum products. Specifications"
Order of March 25, 2014 № 116 "On approval of Federal norms and rules in the field of industrial safety "Regulations of industrial safety for hazardous facilities using equipment working under excess pressure"
Resolution№ 87 of February 16, 2008 "Regulation on Composition of Design Documentation Sections and Requirements to Their Contents (as amended on January 23, 2016)"
STO 02494680-0052-2005 "System of Design Documentation for Construction. Metalworks. Package and execution of basic design working drawing. Technical Project Documentation"
GOST 21.502-2007 "Rules for basic and detailed engineering of metal structures"
Tanks and vessels design features
The designed steel structures must provide strength and geometric unchangeability throughout the service life. Therefore, it is very important to make the correct calculation.
In the design process, the steel grade is selected in accordance with the following parameters: chemical properties and weldability, mechanical properties and strength, impact strength, steel design temperature, thickness of rolled steel. The welding method (automatic or manual, vertical or horizontal, single or double) is selected to ensure leak tightness of a weld joint during the entire service life.
The shape of the vessel (horizontal or vertical), the method of installation (underground, above ground, buried), the design of the bottoms, shells, roofs and other basic and auxiliary metal structures are designed in accordance with the operating conditions and Customer's requirements given in the Questionnaires or Technical Design Assignment.
Each design discipline contains information necessary for the performance of certain works:
Technical Design Assignment specifies the main Customer's equipment requirements
In basic design, engineering solution justification of metal structures, information about metal thickness, manufacturing methods, the specifics of the tank, etc. are given; basic design is the ground of detailed design and costimating
the detailed design is used by the manufacturer, as it contains all the necessary drawings and wiring diagrams of nodes and assembly, etc.
plan of production of work contains information on the production procedure of construction and installation works at the worksite, as well as test card of the facility
For convenience, we have developed three possible business arrangements:
tanks and vessels manufacturing on the basis of the provided construction project drawings and specifications
manufacturing according to typical design
individual tanks and vessels manufacturing taking into account the facility specificity and operating conditions
The advantages of cooperation with the Saratov Reservoir Plant
qualified staff of design engineers and facility design engineers
modern software for industrial and production metal structures of various complexity design
effective design and engineering solutions
multifaceted approach: our Plant acts as the sole source (provider and executor of all works) for the construction of oil and gas industry facilities
How to order oil and gas facility design?
If you want to order tanks and oil and gas facilities design, You can:
The equipment of your interest You can find in our Catalogue