Settling tank 100 m3
05 February 2021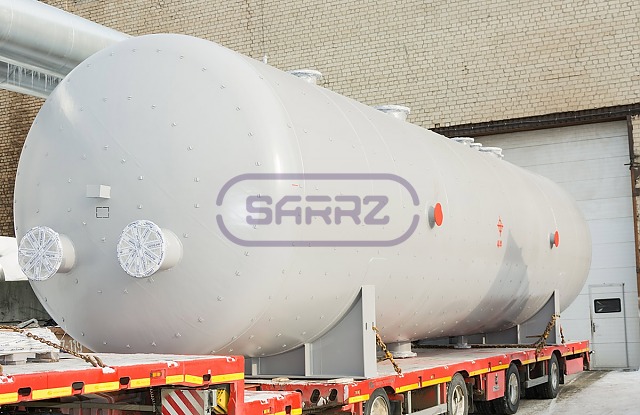 SARRZ specialists manufactured a horizontal oil settling tank with a capacity of 100 m3 from O9G2S steel grade. The settling tank will be operated at an oil production enterprise in the Orenburg Region.
The partner freight and cargo transportation company provides special vehicles for the transportation of nondivisible long items of cargo. To deliver a semitrailer heavy-duty truck produced by Tverstroymash was chosen. These semitrailers are characterized by a sliding flat platform, a necessary and sufficient number of tools for securing the cargo, a replaceable face sheet which makes it possible to deliver equipment (using drop ramps) or long loads (with dismantled drop ramps).
The equipment will be used to separate the oil emulsion into the main components. At the Plant brackets were welded to the settling tank to fasten the thermal insulation at the facility. There are also hatches and pipes for the installation of processing equipment: a pressure gauge, a pressure sensor, a built-in level gauge, a safety valve, sampling valves.
Overall dimensions of the settling tank with a volume of 100 m3: diameter 3000 mm, length with heads 14085 mm, height with supports 3576 mm.
To calculate the cost of the vertical tank erection You may call the Plant at +7(8452)250-288 or send technical requirements to the necessary equipment to e - mail .