Vertical tanks erection in Magadan
10 October 2016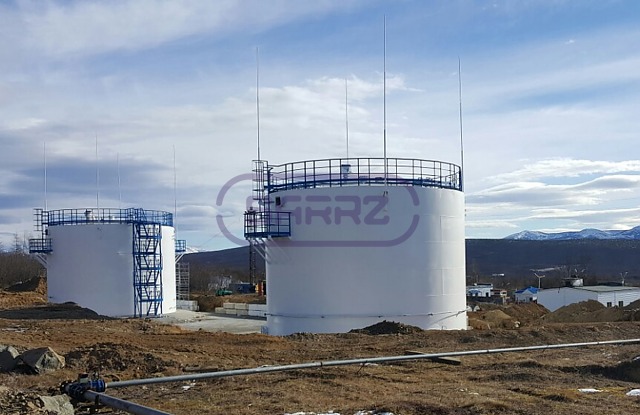 Specialists of the Saratov Reservoir Plant have completed a large-scale project for two vertical tanks erection at the facility in Magadan.
In accordance with the contract, a whole range of works was carried out:
design of two vertical tanks RVS-1000
dismantling of old tanks RVS-1000
manufacture and delivery of tanks to the construction site
erection of two RVS-1000
The shells, bottoms and roofs of the tanks were shipped in spring 2016.
As part of the installation works the followign was carried out:
dismantling of old tanks and their foundations
installation of foundations for tanks
laying the bottom and the roof of the tanks
the unrolling of the shellss of the tanks
welding of stairs, service areas and platforms for foam generators
installation of accessories
the arrangment of the piping
painting of tanks
The main characteristics of the tank RVS-1000 at the facility in Magadan
working environment - jet fuel
operating level of filling - 7860 mm
diameter 12330 mm, height 8940 mm
number of rings - 6 pieces of 1490 mm
To request for quotation of vertical tanks design, manufacturing and erection, call at +7(8452)250-288 or email .